Hauntings at FiveMyles
by Elizabeth Johnson
2020-04-22T1411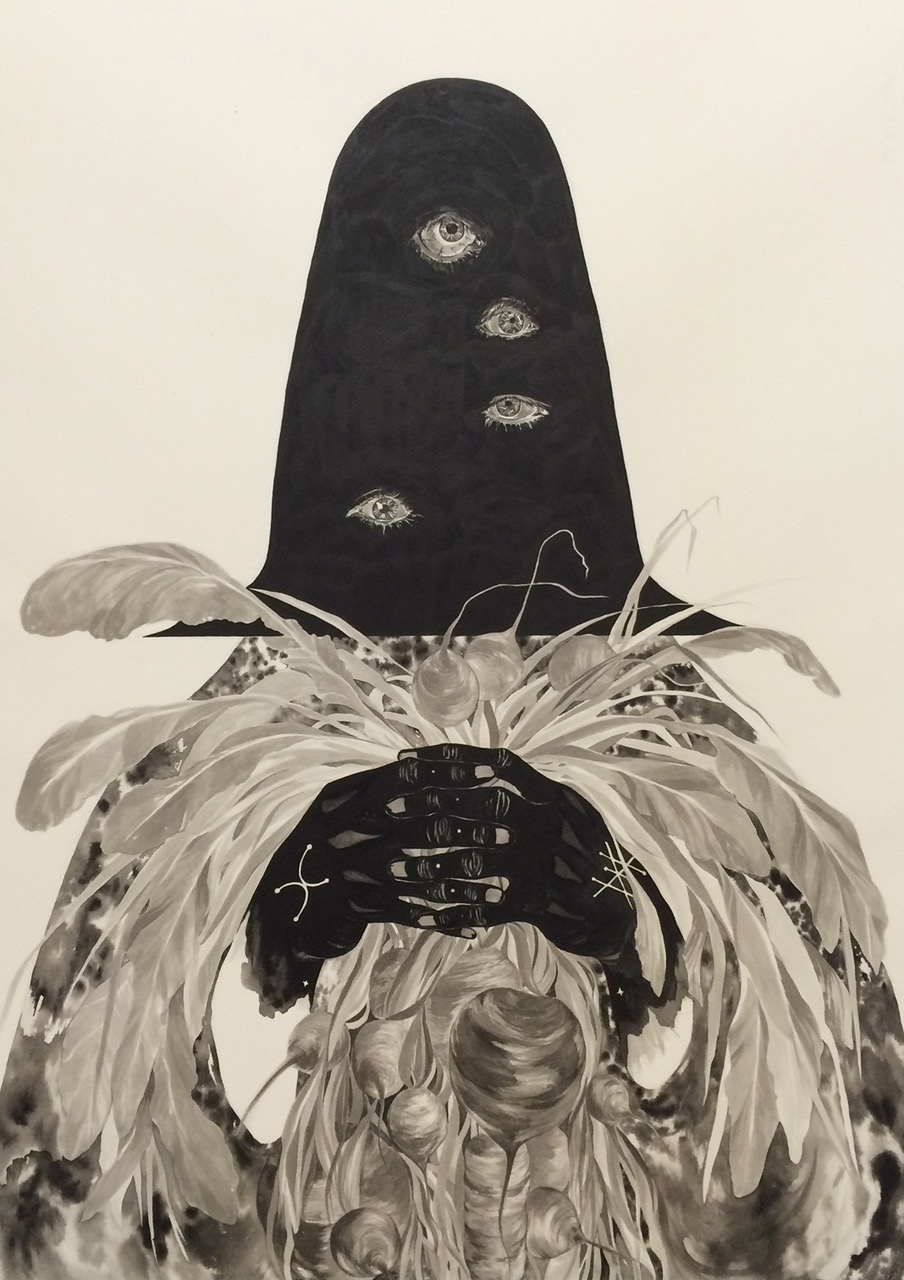 Against the backdrop of an invisible deadly virus, Hauntings (FiveMyles, in Brooklyn) mitigates horror, powerlessness, and darkness, by tracing the slow absorption of these negative states, without presuming improvement or resolution. The open-ended works, by Barbara Friedman, Jillian McDonald, and Marigold Santos, result from incidental surprises colluding with process. These artists invent empowered, funny yet imperiled characters whose chief role is be pawns of justice and nature.
Barbara Friedman visited Pinacoteca di Brera museum, in Milan, and decided to borrow the background portion of Liberale da Verona's Renaissance portrait of St. Sebastian: perched in balconies, small women converse at crotch level on either side of the large saint. This scene found its way into her painting, Hard Rain, which is painted over Castle in the Sky, an earlier work that floats a dreamy castle in a hopeful void. Hard Rain is foreboding: as fog consumes the castle, the women–recontextualized as a jury–decide the fate of a young, male supplicant. The women seem to act as one, they communicate without speaking, they guard an unreachable mystical goal.
As she works, Friedman remains neutral toward her characters, letting them surprise her with their changes. About the women in Hard Rain, she says, "the women aren't reaching out to help him, or at least they aren't yet, and of course they still might do so. He's male and probably an intruder of some sort. He seems young and vulnerable–much more so than I intended him to be." A related painting featuring the same chorus of women, Renaissance Penis, freed her to remove St. Sebastian's loin cloth and reveal a large, dangling penis. She continues, "In both paintings I feel for these women; they come out on their balconies into a haunted world: either some guy is hanging off the rails or they're face to face with a penis.... I feel for the guy, too."
The Dark Season by Jillian McDonald is a two-channel video of digitally enhanced and manipulated images shot during an Arctic Circle Residency in Svalbard, an archipelago midway between Norway and The North Pole. Sailing and living on a tall ship, artists were permitted to roam inside protected areas for a limited time, each passing day losing fourteen minutes of sunlight. The work mourns climate change and mankind's destruction of nature.
McDonald used 3–D and Rotoscope animation, Chroma Keying, and After Effects software to inject absurdity into the melting, pristine terrain. The random, scary moments are also light-hearted; incongruencies such as a woman barely dodging a rock, a fallen Santa, a creepy clown on a jungle gym, a woman riding a blow-up flamingo, and tropical plants counterbalance components that are sympathetic with the landscape: a fox frozen in ice, a camouflaged figure that reflects his surroundings, swimmers, flying pastel crystals and metallic stars, and manipulated light and reflections. Seeming to arise independent of the frenetic activity, a nebulous black contagion, a dark spirit of the land appears, a harbinger of our dark and dangerous future, then disappears into the degraded landscape.
Marigold Santos left the Philippines as a child, when her family immigrated to Canada. Her work explores the dualities of attachment and separation, being grounded or uprooted, through fragmented characters. Shroud (Dirty Harvester) is based on the Aswang: shapeshifting female vampires of Filipino folklore. The clean dirt associated with earth, home, and garden tempers the tainted dirt of burial, blood, and viscera. Aswang are related to Manananggal, or bat-like witches, that shed their lower torsos and fly; the latter translates as "removers" or "ones who separate themselves," which links to Santos's personal diaspora. Shroud (Dirty Harvester) taps emotionally charged, personal identity through a composite form of evil, darkness and bounty.
Multiple eyes of Shroud (Dirty Harvester) appear searching, suspicious, hesitant, and fearful, as they stare out of a hat-like shroud or second skin; the black, parabolic-shaped covering hides, defines, and protects the ghoul. With hands decorated in arcane symbols, it clasps turnips like a bridal bouquet, and femininity seems to strangle the bitter root vegetable rather than celebrate harvest. Shifting gazes suggest "dirty" evil spawned by inner division, self-contradiction, and indecision. Representing homelessness, uprootedness, and starvation despite plenty, the monster seems detached from life and harvest, yet engaged in the emotionally mixed, slow and difficult process of absorbing a new culture.
[Hauntings is showing at FiveMyles in Brooklyn. Video tour, artists talk, Jillian McDonald video excerpt.]
[About the author: Elizabeth Johnson is an artist and writer.]