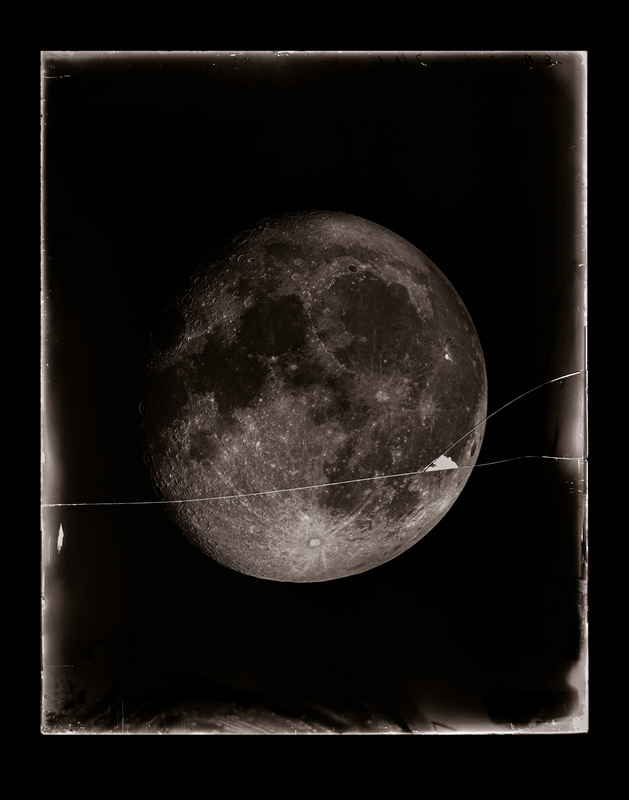 16 Apr 2018
Linda Connor & Zhan Wang: Speak to the Stones, and the Stars Answer
Haines Gallery
Reviewed by Lani Asher
Linda Connor and Zhan Wang are showing together in Haines Gallery's "Speak to the Stones, and the Stars Answer," titled after Theodore Roethke's poem "Unfold! Unfold!"
Connor's mysterious images of ancient sea beds, ruins in Lebanon, Tibet, and India, mummified bodies from Pompeii, and the stars and moon are printed from antique glass plates and transformed into sublimination prints. Using a transfer process, ink is infused beneath the surface of aluminum, and the resulting works read simultaneously like silvery daguerreotypes and digital displays.
Wang makes dazzling steel replicas of scholar's rocks, traditionally used by the Chinese for contemplation. His mesmerizing "stones" are presented on classic wooden pedestals.
The surprising pairing of these two artists is bracing and satisfying. The images of ruins, landscapes, stars, and human remains are mirrored in the surfaces of the sculptures and prints, creating myriad patterns and an immersive experience.
| | |
| --- | --- |
| Exhibition | Linda Connor & Zhan Wang: Speak to the Stones, and the Stars Answer link |
| Start date | 01 Mar 2018 |
| End date | 02 Jun 2018 |
| Presenter | Haines Gallery link |
| Venue | 49 Geary Street, Suite 540, San Francisco, CA, USA map |
| Image | Linda Connor, August 3, 1896, University of California Observatories, Lick Observatory, 2017, sublimation on aluminum, 14 x 11 inches, courtesy of Haines Gallery |
| Links | Reviews of current exhibitions near this one |
| Share | Facebook, Twitter, Google+ |