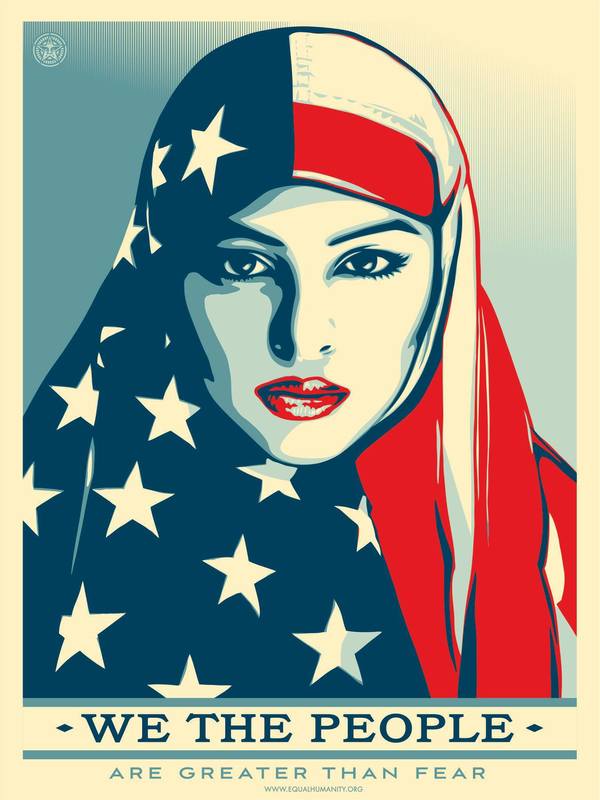 09 May 2018
Artists Take Action! Recent Acquisitions from the Davis
Davis Museum, Wellesley College
Reviewed by Franklin Einspruch
"Artists Take Action" further confirms my impression that with the exception of examples in contemporary comics, political art in a graphic mode has been all but killed off by simpleminded outrage. Sue Coe has produced much better work than her 2017 linocut in which the bellowing visage of Donald Trump blocks out the sun as Klansmen and a Nazi maraud innocents on the ground. The title, Total Eclipse of Rationality, is scrawled across the top, in case the image itself is too subtle.
Shepard Fairey's kohl-eyed beauty wearing a hijab made from an American flag is typical of his overstyled sterility. It is political art attempted, ridiculously, on the template of Patrick Nagel.
Works from fifty years ago fare better, particularly Ron Borowski's humane photograph of a black man with stars and stripes greasepainted on half of his face. The choice of a model resembling the recently assassinated Martin Luther King was deliberate. It hails from a time when complexity was still possible.
| | |
| --- | --- |
| Exhibition | Artists Take Action! Recent Acquisitions from the Davis link |
| Start date | 13 Feb 2018 |
| End date | 10 Jun 2018 |
| Presenter | Davis Museum link |
| Venue | Wellesley College, 106 Central Street, Wellesley, MA, USA map |
| Image | Shepard Fairey, We the People: Are Greater than Fear, 2017, poster, 36 1/8 x 24 1/8 inches, gift of Lisa Fischman, Ruth Gordon Shapiro '37 Director, courtesy of the artist |
| Links | Reviews of current exhibitions near this one |
| Share | Facebook, Twitter, Google+ |