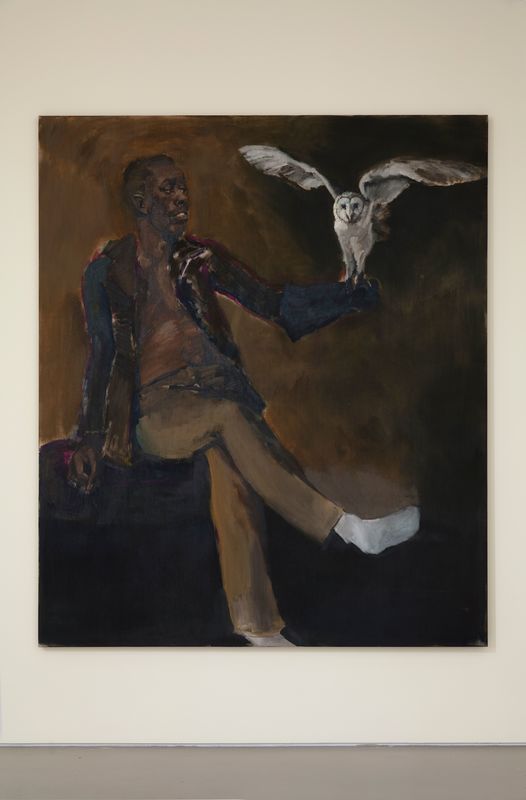 14 Feb 2019
Lynette Yiadom-Boakye: In Lieu Of A Louder Love
Jack Shainman Gallery
Reviewed by Suzanne Unrein
Lynette Yiadom-Boakye's contemplative works, fictitious black figures painted life-size and larger in minimal spaces, make up this two-gallery exhibition at Jack Shainman.
Thin bright whites, yellows, lime greens, and peaches are sparingly covered up by a dance of deep umbers, blue-blacks, and grays. The underpaint highlights the whites of eyes, the contours of facial features, and the outline of clothing. The figures appear silent even with outward smiles. An insistent inward gaze complements their elegant postures. Their essence is depicted with such timelessness of clothing and spaces that it produces a hologram-like remoteness.
In The Ever Exacting (2018), a man looks skeptically at an owl that looks equally suspicious of the viewer. His white-socked foot reaches out as if to move while mimicking the owl's threat to fly. Both sock and owl are painted in rich white-grays. Yiadom-Boakye is at her best here - hinting at forms with virtuoso brushstrokes, playing vibrant hues off ochres and browns - while conjuring the mysteries of paint and her imaginary subjects.
| | |
| --- | --- |
| Exhibition | Lynette Yiadom-Boakye: In Lieu Of A Louder Love |
| Start date | 10 Jan 2019 |
| End date | 16 Feb 2019 |
| Presenter | Jack Shainman Gallery link |
| Venue | 524 West 24th Street, New York City, NY, USA map |
| Image | Lynette Yiadom-Boakye, The Ever Exacting, 2018, oil on linen, 74 15/16 x 63 1/8 x 1 1/2 inches, © Lynette Yiadom-Boakye, courtesy of the artist, Jack Shainman Gallery, New York and Corvi-Mora, London |
| Links | Reviews of current exhibitions near this one |
| Share | Facebook, Twitter, Google+ |