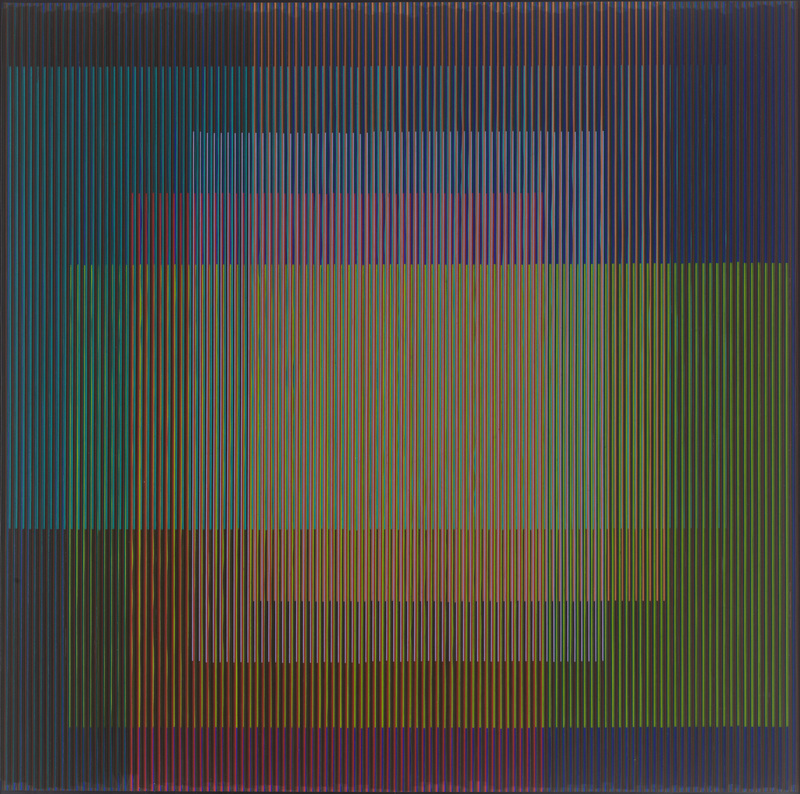 18 Sep 2019
Vertigo
mumok
Reviewed by Vera Wilde
Op Art combines graphic and fine arts to move viewers viscerally. In a wide selection of media including paintings on canvas, floor, and pavement, as well as objects, installations, and more, this exhibit fulfills its titular promise to make you feel it.
Vertigo reflects our disorientation vis-à-vis other popular spectacles. Fake news comes to mind. Yet, pathologizing the power of illusions frames the experience of confusion as hardship.
That misses the point. Op Art reconditions disorientation as play. Dazzling color (Carlos Cruz-Diez, Promenade Chromatique Vienne, 2019) and light (Brion Gysin, Dreammachine, 1961) yield sensory experiences of delight. If a tongue-in-cheek satire of the Puritanical pleasure taboo was intended, its subtlety undermines it.
Another, more useful warning remains latent: Marketing also uses bounded creativity to produce psychological effects. A planned talk by a perceptual psychologist with an institute for marketing management highlights this reincarnation of art that toys with the mind for fun as ads that manipulate it for profit.
| | |
| --- | --- |
| Exhibition | Vertigo link |
| Start date | 25 May 2019 |
| End date | 26 Oct 2019 |
| Presenter | mumok link |
| Venue | Museumsplatz 1, Wien, AT map |
| Image | Carlos Cruz-Diez, Physichromie Nr. 417, 1968, oil, plastic on wood, 121 x 122 x 7 centimeters, mumok, Museum moderner Kunst Stiftung Ludwig Wien, on loan from the Austrian Ludwig Foundation since 1981, photo: mumok, © Bildrecht Wien, 2019 |
| Links | Reviews of current exhibitions near this one |
| Share | Facebook, Twitter, Google+ |