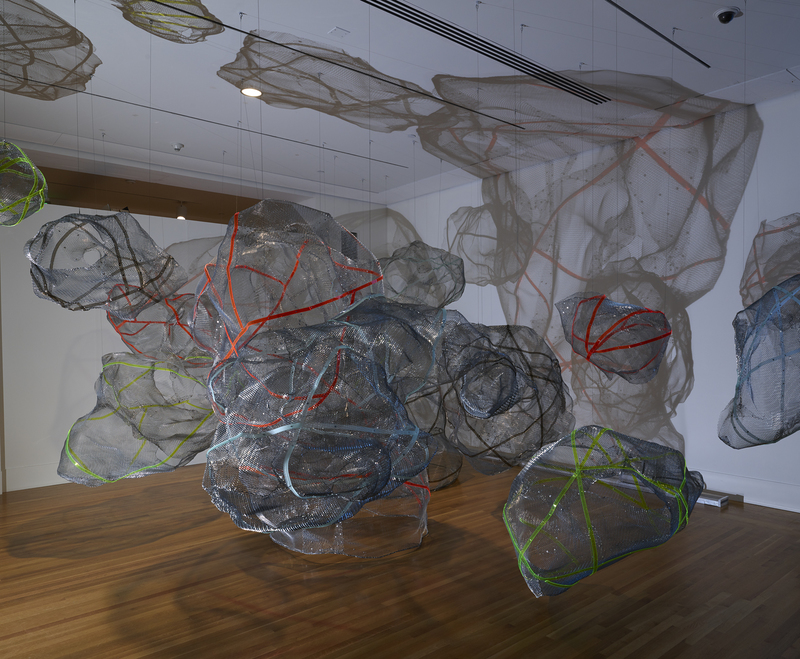 03 Aug 2017
Soo Sunny Park: BioLath
Currier Museum of Art
Reviewed by Franklin Einspruch
Soo Sunny Park has formed sheets of metal lath, the kind used for plastering, into amoebic shapes the width of outstretched arms. Their ribs are strips of translucent plastic. Lights set upon the floor are connected to tracks and motors, causing them to move back and forth, unhurried, as they project upwards, casting shadows on the walls and ceiling of the Currier's Putnam Gallery.
The shadows of lath and luminous lines of filtered color float across one another, combining and recombining, cloudlike. The effect is akin to Brice Marden's engagingly stoic Cold Mountain paintings, updated as installation, and animated. The forms themselves refuse to coalesce entirely as sculpture, though. Daylight gets into the room, combines with the light from the floor, and robs the steel billows of dimensionality. Could the windows have been blackened, perhaps?
Nevertheless there is life in the room, artificial patterns and tints drifting pleasantly overhead like mechanical weather.
| | |
| --- | --- |
| Exhibition | Soo Sunny Park: BioLath link |
| Start date | 25 Feb 2017 |
| End date | 06 Aug 2017 |
| Presenter | Currier Museum of Art link |
| Venue | 150 Ash Street, Manchester, NH, USA map |
| Image | Soo Sunny Park, BioLath, 2017, metal lath, plexiglass, light, dimensions variable, photograph by Stewart Clements, courtesy of the Currier Museum of Art |
| Links | Reviews of current exhibitions near this one |
| Share | Facebook, Twitter, Google+ |