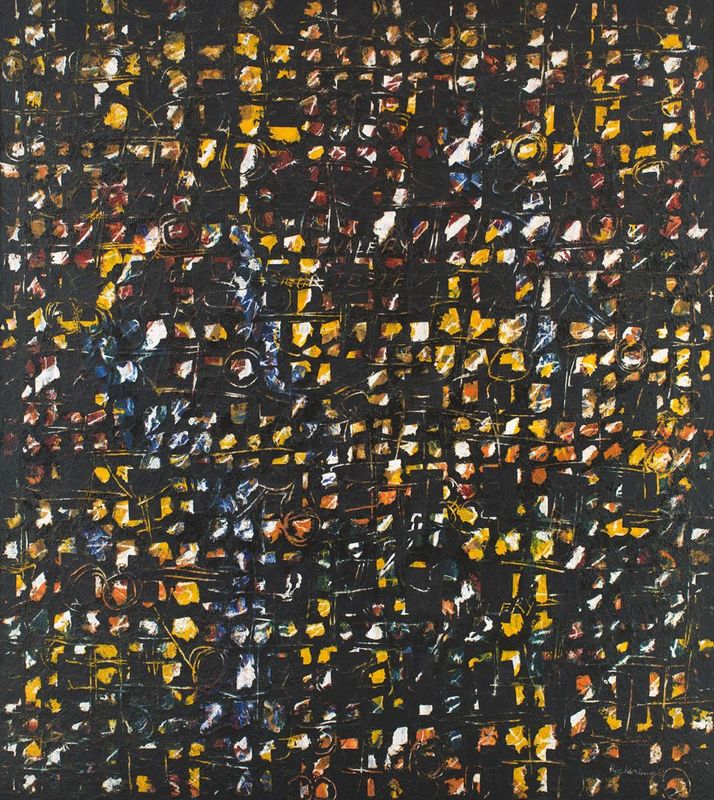 08 Aug 2017
Robert Richenburg: Abstract Expressionist Painter
Johnson Museum of Art, Cornell University
Reviewed by Arthur Whitman
Abstract expressionism isn't the Johnson's forte. And like other exhibits of former Cornellians, this one is off-season. Robert Richenburg (1917–2006) came to Ithaca following a 1964 censorship scuffle at Pratt. He taught briefly at Cornell and later chaired Ithaca College's art department.
Museum director Stephanie Wiles curates. Chronology is tight, emphasizing the overscaled canvases of the painter's New York City heyday. Richenburg is ambitious but uneven. His paintings of the Forties ingest Cubism and Surrealism while work two decades later includes richly hued, torn paper and wire sculpture.
Notable are his "Black Paintings," nods to Goya possessed of bleak grit echoing his experience as a World War II combat engineer. Homage to Valéry is exemplary with an overlaid black grid holding brushy color. Scraping builds figure/ground delirium, while graffiti scrawls allude to the literary chiaroscuro of the Frenchman's Monsieur Teste.
| | |
| --- | --- |
| Exhibition | Robert Richenburg: Abstract Expressionist Painter link |
| Start date | 01 Jul 2017 |
| End date | 10 Sep 2017 |
| Presenter | Johnson Museum of Art link |
| Venue | Cornell University, 114 Central Avenue, Ithaca, NY, USA map |
| Image | Robert Richenburg, Homage to Valéry, 1960, oil on canvas, private collection, New York, courtesy of the Johnson Museum of Art |
| Links | Reviews of current exhibitions near this one |
| Share | Facebook, Twitter, Google+ |