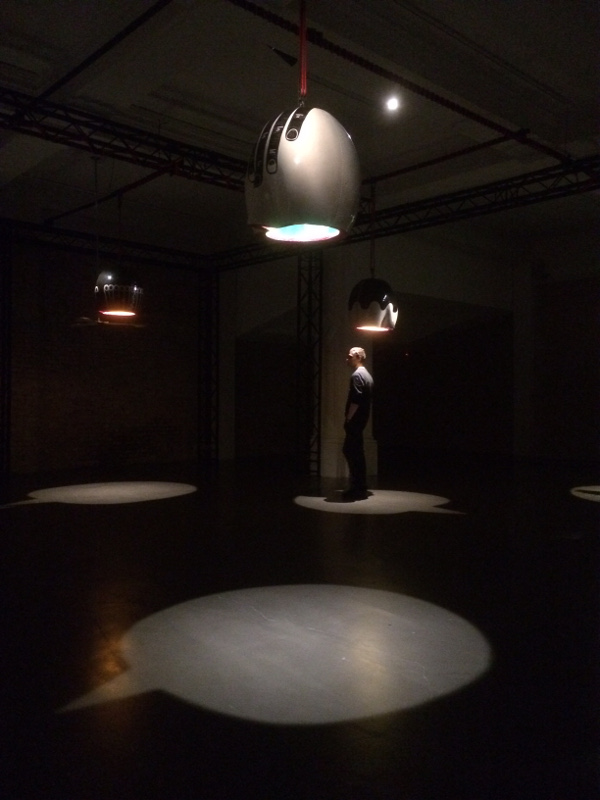 10 Aug 2017
Emma Hart: Mamma Mia!
Whitechapel Gallery
Reviewed by William Corwin
A soup of signifiers both contemporary and archaic dangle mid-air in the gloom.
There is a story here: the artist received the Max Mara Prize and spent six months working with Majolica earthenware in Faenza, Italy, and researching family psychoanalysis and dysfunction. The resulting cloud of inverted delicate ceramic vessels are egg-like and resemble inflated Cycladic heads. They cast speech balloon-shaped pools of light and while there is a sensation of dialogue amongst the parts, the whole seems more like the inner sanctum of a temple devoted to a Hittite fertility cult.
The ceiling fans with blades of oversized aluminum utensils lend movement and an air of humor to the foreboding atmosphere. The colorful Philip Guston-like illustrations and inscriptions of calibrations, fingers, hands, eyes, and entire green bodies on these ominous upside-down vases offer an wonderfully incomprehensible and mystic narration to this stunning and esoterically cohesive installation.