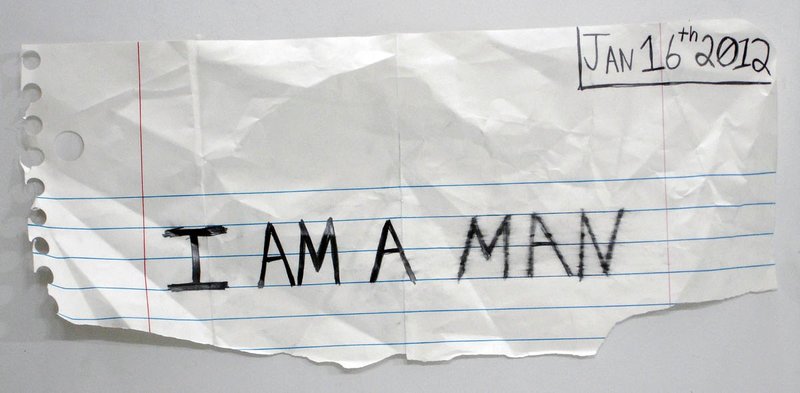 10 Aug 2017
Ready. Fire! Aim.
Hall Art Foundation
Reviewed by Elizabeth Michelman
Brandishing guns, fingers, and slogans, DJ Hellerman's selections from the Hall Art Collection evoke fears of death, decay, and castration.
Tony Matelli's t-shirted chimpanzee staggers through the room, cut off at one knee and balancing his good leg with a child's aluminum crutch. The modern St. Sebastian is pierced by an arrow, skewered with a saber, hacked by a machete, half-decapitated with a shovel, jabbed with a scissors, stabbed with a Bowie knife, and impaled by a pickax. His left hand is pinned to the floor in a corner. Yet he soldiers on.
The work could take its caption from Michael Scoggins's nearby taut-lipped statement I Am a Man. The slogan is slashed in graphite on a four-foot-wide strip of crumpled drawing paper. Perforations and drawn blue lines mimic a sheet torn from a notebook, complete with date in the corner. This age-old battle-cry for racial justice is more than a meme of personal affirmation. It's a scream of outrage and a demand for redemption.
Exhibition
Ready. Fire! Aim. link
Start date
06 May 2017
End date
26 Nov 2017
Presenter
Hall Art Foundation link
Venue
544 VT Route 106, Reading, VT, USA map
Image
Michael Scoggins, I Am a Man, 2012, graphite, prismacolor on paper, 22 x 51 inches, courtesy of the Hall Collection, © Michael Scoggins
Links

Reviews of current exhibitions near this one

Reviews by Elizabeth Michelman

Share
Facebook, Twitter, Google+