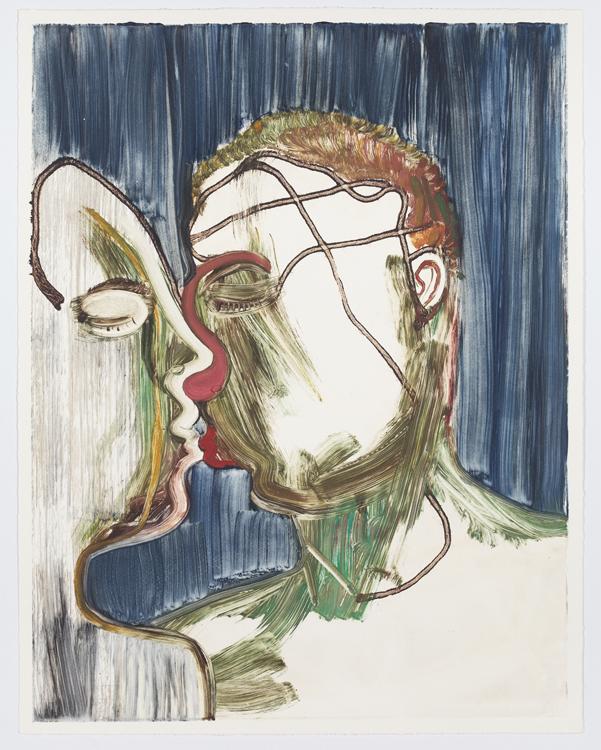 16 Aug 2017
Hope and Hazard: A Comedy of Eros
Hall Art Foundation
Reviewed by Elizabeth Michelman
Curator Eric Fischl's focus on the figure favors the (sexual) parts over the whole, often leaving us feeling overstimulated and unconsummated.
The works polarize pleasure and pain, critique sexual power games, question the dominance of the male gaze, and probe anxieties about death, loneliness, and tenderness. But the insistent sensationalism obscures the realization that art itself is an erotic process.
Nicole Eisenman's line charmingly meanders between lovers' lips. Chantal Joffe paints the rough lives of urban prostitutes with smears and drips, while Joan Semmel turns us on with hot-house color fields that become orgasmic shudders.
The ceramic orbs and nipples of Robert Arneson's bulbous Six-pack, Hannah Wilke's chewing-gum vulvas, and Jason Rhoades's empty silver bezel mimicking the great Black Stone of Mecca speak to primal emotions. But the shadow over Ellen Berkenblit's hapless mouse-child, abused in midair by a man twice her size, chills body and soul.
Exhibition
Hope and Hazard: A Comedy of Eros link
Start date
06 May 2017
End date
26 Nov 2017
Presenter
Hall Art Foundation link
Venue
544 VT Route 106, Reading, VT, USA map
Image
Nicole Eisenman, Untitled, 2011, mixed media, monotype, 24 1/2 x 19 inches, courtesy of the Hall Collection, © Nicole Eisenman
Links

Reviews of current exhibitions near this one

Reviews by Elizabeth Michelman

Share
Facebook, Twitter, Google+