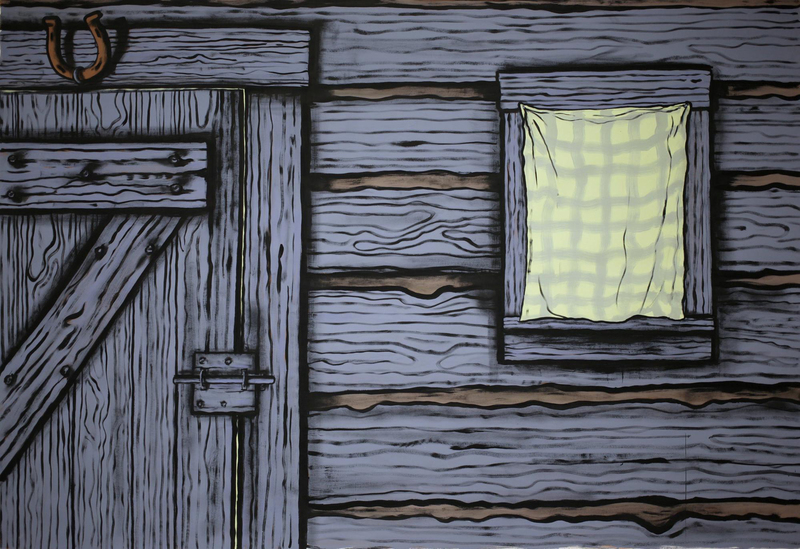 16 Aug 2017
Patrick Dunfey: Large Paintings on Paper
White River Gallery
Reviewed by Susan B. Apel
Patrick Dunfey's "Large Paintings on Paper" reflect the feeling of growing up lakeside. Composed of simple, mostly straight lines intersecting at right angles, they resemble Japanese woodblock prints, but are made of pigmented gesso and tempera. Colors are subtly rich in hue and spare in number.
Two of the paintings present a duality of life outdoors. In Day, the viewer is inside a rustic cabin. Light appears through a gauzy window curtain and in slivers around the rectangle of a door. It's cozy and bracing, a day's beginning that is inviting yet obstructed by the room itself. Maybe the day can wait. Breach is swirling water, a log pushed askew. The viewer feels the water rising, and the mounting menace of no escape.
Their proximate vantage point, as well as their size - sixty by eighty inches, a departure from Dunfey's previous works - do not just make the viewer feel as if she could step into them, but as if she could not avoid it.
| | |
| --- | --- |
| Exhibition | Patrick Dunfey: Large Paintings on Paper |
| Start date | 17 Jul 2017 |
| End date | 30 Sep 2017 |
| Presenter | White River Gallery link |
| Venue | 35 S. Windsor Street, South Royalton, VT, USA map |
| Image | Patrick Dunfey, Day, 2017, tempera and pigmented gesso on paper, 60 x 85 inches, courtesy of the artist |
| Links | Reviews of current exhibitions near this one |
| Share | Facebook, Twitter, Google+ |