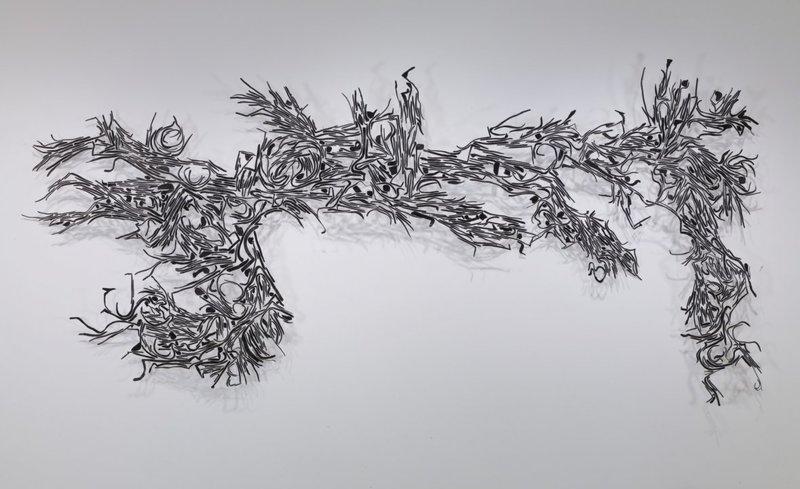 17 Aug 2017
Drawing: The Beginning of Everything
Albright-Knox Art Gallery
Reviewed by Rob Mackenzie
Since 2010 Sol LeWitt's Wall Drawing #1268 has covered 2200 square feet of the Albright-Knox entrance hall, with 1717 pencil leads' worth of curlicued scribbles evoking architectural forms. But now the graphite, pastel, and ink drawing trail continues upstairs through five more rooms in what the gallery calls "a constructive exploration of surface, space, composition, and scale."
It can be hard to say where creativity ends and compulsion begins, in works the size of bedsheets, covered with miles of carbon. The more successful efforts draw viewers in from across the room to sample the exquisitely detailed, almost microscopic patterns from which both intimate images and entire worlds are made.
In Mark Fox's Untitled (Fault), stray and cast-off marks from the edges and discards of hundreds of other works have been meticulously circumscribed and collected in an abstract collage evoking the mystery, whimsy, and beauty of ink.
| | |
| --- | --- |
| Exhibition | Drawing: The Beginning of Everything link |
| Start date | 08 Jul 2017 |
| End date | 15 Oct 2017 |
| Presenter | Albright-Knox Art Gallery link |
| Venue | 1285 Elmwood Avenue, Buffalo, NY, USA map |
| Image | Mark Fox, Untitled (Fault), 2008, ink on paper, linen tape, and metal pins, 50 x 131 x 11 inches, collection of the Albright-Knox Art Gallery, Elisabeth H. Gates, James G. Forsyth and Edmund Hayes Funds, 2009, © 2008 Mark Fox |
| Links | Reviews of current exhibitions near this one |
| Share | Facebook, Twitter, Google+ |