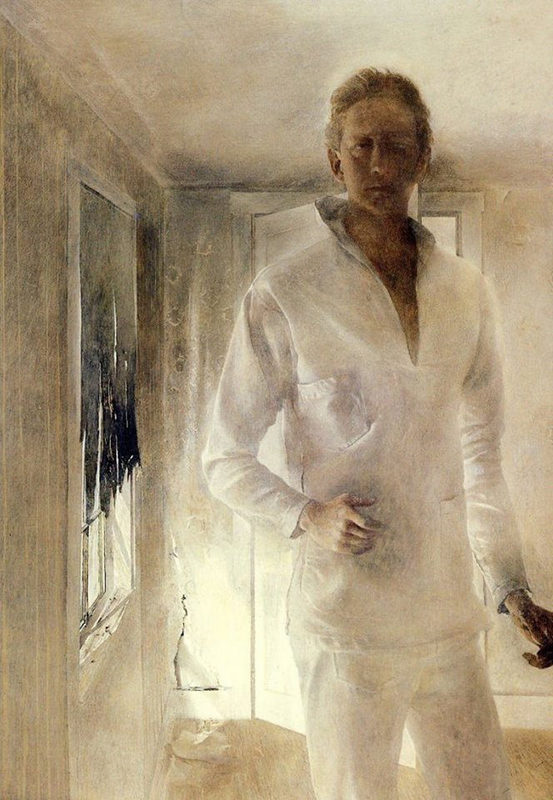 01 Sep 2017
Andrew Wyeth at 100: A Family Remembrance
Feminore Art Museum
Reviewed by Arthur Whitman
For seven decades, Andrew Wyeth painted family and neighbors in rural Pennsylvania and Maine. But he was an ambivalent portraitist, often preferring to let landscape, buildings, and objects stand in for people.
A small show at the Fenimore was co-curated by his granddaughter Victoria. With her reminisces and family photographs, it seeks to dispel Wyeth's dour image. The selection is heavy on sketches and memorabilia. One longs for more paintings.
An early drawing shows Andrew's illustrator father N.C. in his studio before his 1945 death in an auto accident. The younger Wyeth's egg temperas are meticulously layered. The Revenant (1949), a rare self-portrait, eerily shifts focus. Outpost (1968) shows his wife Betsy out in the snow, neatly framed by the architecture.
His watercolors balance vivacity and poise. Master Bedroom (1965), familiar in reproduction, reveals its true weight while Only Child (1999), a mildly racy drybrush portrait of Victoria, brings the show full-circle.
| | |
| --- | --- |
| Exhibition | Andrew Wyeth at 100: A Family Remembrance link |
| Start date | 27 May 2017 |
| End date | 04 Sep 2017 |
| Presenter | Feminore Art Museum link |
| Venue | 5798 State Highway 80, Cooperstown, NY, USA map |
| Image | Andrew Wyeth, The Revenant, 1949, tempera on Masonite, 30 x 21 x 3/8, © New Britain Museum of American Art |
| Links | Reviews of current exhibitions near this one |
| Share | Facebook, Twitter, Google+ |