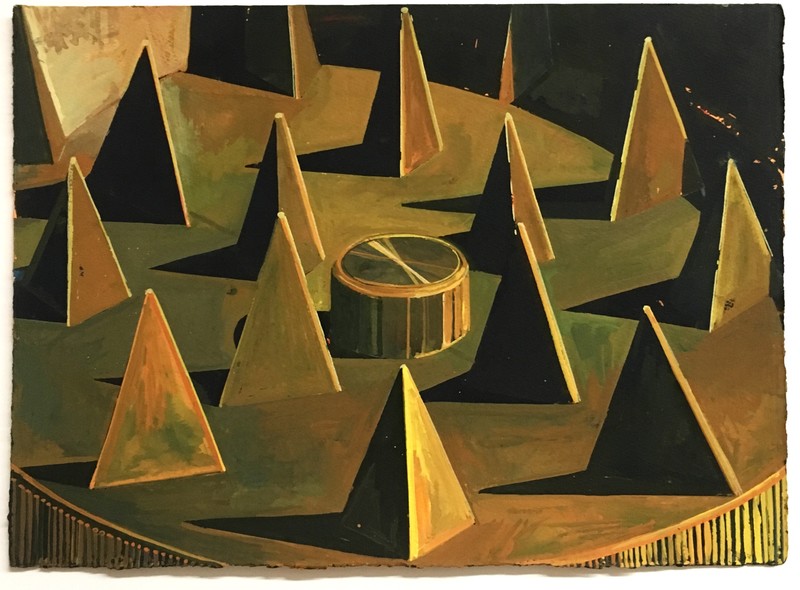 14 Sep 2017
Anthony Palocci Jr.: It Can't Rain All The Time
How's Howard?
Reviewed by David Curcio
Snooze, a tight painting of an alarm clock reading 6:03, commences Anthony Palocci's group of thirteen paintings. Is that 6:03 AM or PM? It feels either too early or too late. This bit of agita followed me as I wended around the walls of How's Howard?'s show of Palocci's 11x15 gouaches. Stand with a piece for a minute, and an attachment can develop quickly. There's a private, mutual understanding between the viewer and what we know is just an object. But is it a bond with painting as object, or is it the object that's painted? It's tense. AM or PM?
A car door. A gun, clip and ammo. A stay-tab on a beer. An autobiographical bar of soap. How about the gun? Do we care? Each painting is a question, but the answer doesn't matter. We can recognize them as familiar. We don't pretend to know just what they mean but we're already pals. I finally found myself lost in a domed landscape of pointed metal pyramids surrounding a cylinder glowing like an oracle. What is it?
| | |
| --- | --- |
| Exhibition | Anthony Palocci Jr.: It Can't Rain All The Time |
| Start date | 08 Sep 2017 |
| End date | 15 Oct 2017 |
| Presenter | How's Howard? link |
| Venue | 450 Harrison Avenue, Suite 309c, Boston, MA, USA map |
| Image | Anthony Palocci, Abstract Landscape with Pyramids and Magnet, 2017, gouache on paper, 15 x 11 inches, courtesy of the artist |
| Links | Reviews of current exhibitions near this one |
| Share | Facebook, Twitter, Google+ |