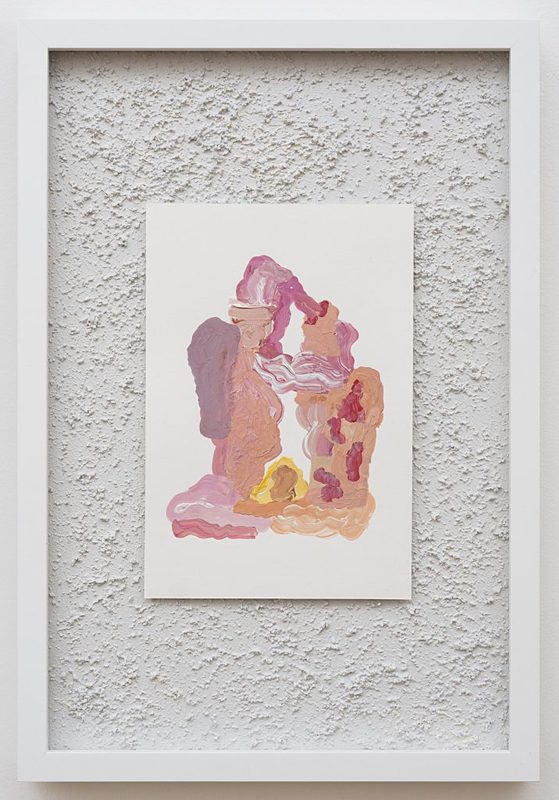 26 Sep 2017
Lilli Carré: Salves
Western Exhibitions
Reviewed by Tom Pekovitch
Lilli Carre's "Salves," a grotesquely sexy display of nauseating suffering, executed in confectionery palettes and wrapped in cute packages, decorates Western Exhibitions. The show includes body-invoking sculptures and paintings filled with corporeal, buttery brushstrokes of gouache.
Carre's recipes playfully dance around the subject of gut-wrenching angst, and pursuits of rectifying such distress. A lean number of elements allows focus within the works, and lets a centralized narrative unfold freely. Outstanding ingredients arise throughout the show, such as the stucco-backed frames on which the paintings are mounted, contrasting with the smooth paper, optically distancing the works from the wall. The ceramic vase filled with Pepto-Bismol points directly to the show's title.
The exhibition stands as a reminder that the tastiest of treats is not one that has overpowering zest, but one that accentuates its unpretentious flavors in harmony.
| | |
| --- | --- |
| Exhibition | Lilli Carré: Salves link |
| Start date | 09 Sep 2017 |
| End date | 28 Oct 2017 |
| Presenter | Western Exhibitions link |
| Venue | 1709 W Chicago Avenue, Suite 2c, Chicago, IL, USA map |
| Image | Lilli Carre, Home Remedy, 2017, gouache on paper mounted on stucco, 6 x 11 inches |
| Links | Reviews of current exhibitions near this one |
| Share | Facebook, Twitter, Google+ |