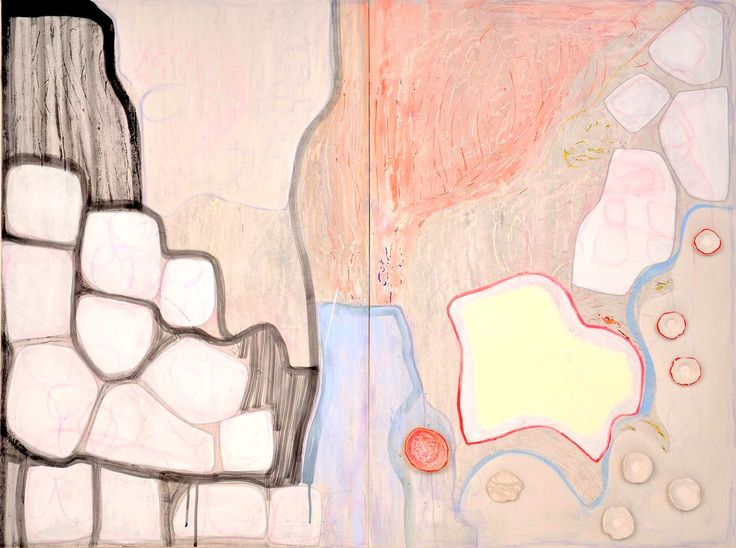 28 Sep 2017
Theresa Hackett and ​Shari Mendelson: Excavations & Certainties
John Molloy Gallery
Reviewed by Michelle Weinberg
John Molloy is a former apartment converted to a cozy gallery, a pleasant counter to bland big-box art venues. Experiencing contemporary art within the "ruins" of a domestic space is consonant with the works of Theresa Hackett and Shari Mendelson.
Hackett's paintings depict landscapes with obvious cues, open windows, borders, and horizon lines. The surfaces offer up the strata of those landscapes. Composed of diatomaceous earth and clay-like substances, petite, hand-built, bowl-like features sprout from their surfaces.
Mendelson's sculptures quote ancient Greco-Roman and Islamic artifacts, but are painstakingly fashioned from contemporary recycled plastic consumer objects, ersatz facsimiles of cultural treasures.
These works allude to the passage of time, of sifting through the accumulated sediment of nature and culture. They conjure the magic inherent in the tactility of materials to convey stories.
| | |
| --- | --- |
| Exhibition | Theresa Hackett and ​Shari Mendelson: Excavations & Certainties link |
| Start date | 13 Sep 2017 |
| End date | 21 Oct 2017 |
| Presenter | John Molloy Gallery link |
| Venue | 49 East 78th Street, Suite 2B, New York City, NY, USA map |
| Image | Theresa Hackett, Ashes at My Feet, 2017, Diatomaceous earth, gesso, Flashe paint, acrylic, enamel, marker, airdry clay on wood panel, 36 x 48 inches |
| Links | Reviews of current exhibitions near this one |
| Share | Facebook, Twitter, Google+ |