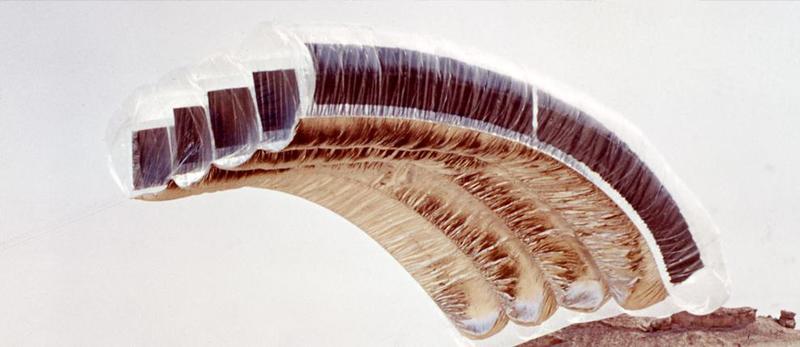 29 Sep 2017
The New Inflatable Moment
BSA Space
Reviewed by Heather Kapplow
"The New Inflatable Moment" covers multiple eras of architects, designers, technologists, aviators, artists, and explorers thinking big. And puffy.
It's an entertaining survey of experiments and models, ranging from the first thing documented flying (an 1873 hot air balloon carrying livestock) to Amazon's recently patented, massive "floating fulfillment center."
But the next layer down is earnest - an aching urge towards utopianism, expressed in the seeking of new, unpredictable forms and solutions to seemingly unsolvable problems.
Highlights include Chico MacMurtrie's effort to soften both robotics and anti-immigrant sentiment with Border Crossers (2016), Frank Lloyd Wright's Rubber Village (1956), and Quicksilver (1944), a US military operation using inflatables to make our ground presence seem 27 times its size in World War II. Curators Balug and Hale's own inhabitable inflatable, The Moment (2017), is also a soft, quiet respite from the hard-scape outside the BSA's windows.