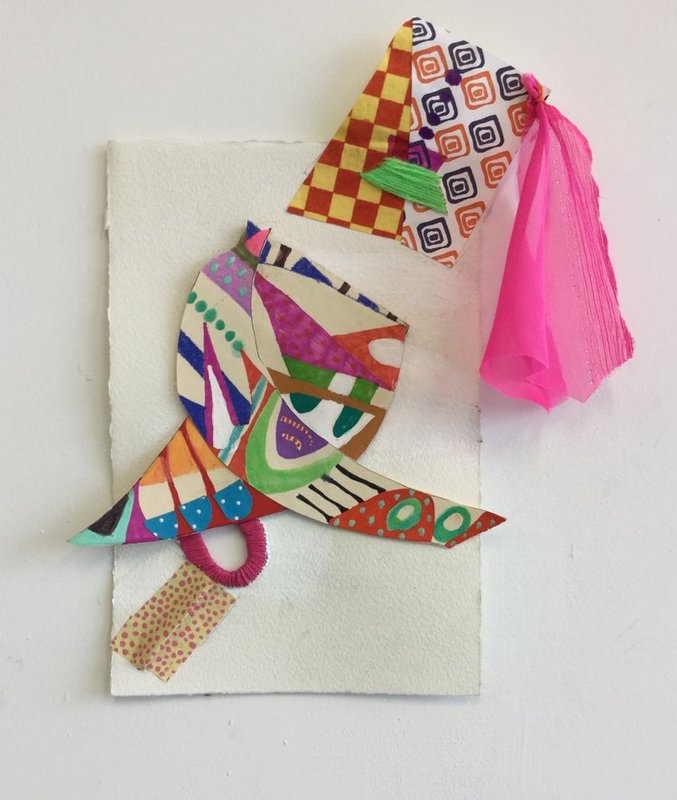 06 Oct 2017
Eileen Weitzman: Traversing A Different World
Anthony Philip Fine Art
Reviewed by Elizabeth Johnson
Eileen Weitzman will not be contained. Her colorful, assembled sculpture-painting - or painted sculptures - stridently oppose gravity, form, and control at Anthony Philip Fine Art.
Weitzman works aggressively, cutting then reattaching shapes from stretched canvas. Zigzag threads fill canvas gaps, splicing sacrifice with repair. Applying thick paint, and working zones of interest with bits of yarn, thread, fur, wire, burlap, fabric, paper maché, plastic, and cardboard, she unifies several stand-alone islands of design and makes it look easy. Stuffed canvas arms, legs, and torsos reach past the frame, seeking escape.
Focusing restlessness to narrate specific social and political issues, Weitzman composes toy guns, newspaper clippings, and crawling babies in relation to quirky chaos. You Must Remember This (2017) unfolds as a flying figure, resolving a need to flee this world with a need to engage it and decorate the solution.
| | |
| --- | --- |
| Exhibition | Eileen Weitzman: Traversing A Different World |
| Start date | 08 Sep 2017 |
| End date | 29 Oct 2017 |
| Presenter | Anthony Philip Fine Art link |
| Venue | 56 Bogart Street, Brooklyn, NY, USA map |
| Image | Eileen Weitzman, You Must Remember This, 2017, gouache, pen, ink, handmade paper, fabric, thread, courtesy of Anthony Philip Fine Art |
| Links | Reviews of current exhibitions near this one |
| Share | Facebook, Twitter, Google+ |