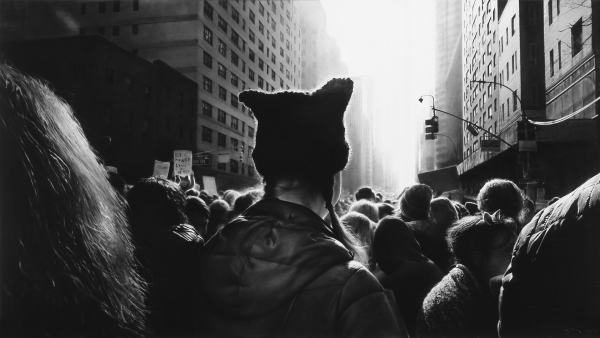 06 Oct 2017
Proof: Francisco Goya, Sergei Eisenstein, Robert Longo
Brooklyn Museum
Reviewed by Jan Castro
Robert Longo's art homes in on subjects important to people worldwide: a gathering at Mecca in 2010, police massed in Ferguson, Missouri in 2014, a ship lost at sea, the Women's March in Washington. These large drawings focus on our freedoms, the right to walk down the street, to worship, to protest. Varying hues of graphite give each work depth and intensity.
"Proof" opens with a circular theater showing monumental close-ups of Sergei Eisenstein's historic films, with Battleship Potemkin and Alexander Nevsky playing side by side. Also on display are Goya etchings, including The Sleep of Reason Produces Monsters and less familiar works.
Originating from the Garage Museum in Moscow, "Proof" is political in the best ways: it brings together three artists from three centuries and three countries who openly protest the madness of wars and prejudicial acts related to race, gender, politics, and religion.
| | |
| --- | --- |
| Exhibition | Proof: Francisco Goya, Sergei Eisenstein, Robert Longo link |
| Start date | 08 Sep 2017 |
| End date | 07 Jan 2018 |
| Presenter | Brooklyn Museum link |
| Venue | 200 Eastern Parkway, Brooklyn, NY, USA map |
| Image | Robert Longo, Untitled (Black Pussy Hat in Women's March), 2017, charcoal on mounted paper, 60 x 106 5/8 inches, courtesy of the artist, Metro Pictures, New York and Galerie Thaddaeus Ropac, London |
| Links | Reviews of current exhibitions near this one |
| Share | Facebook, Twitter, Google+ |