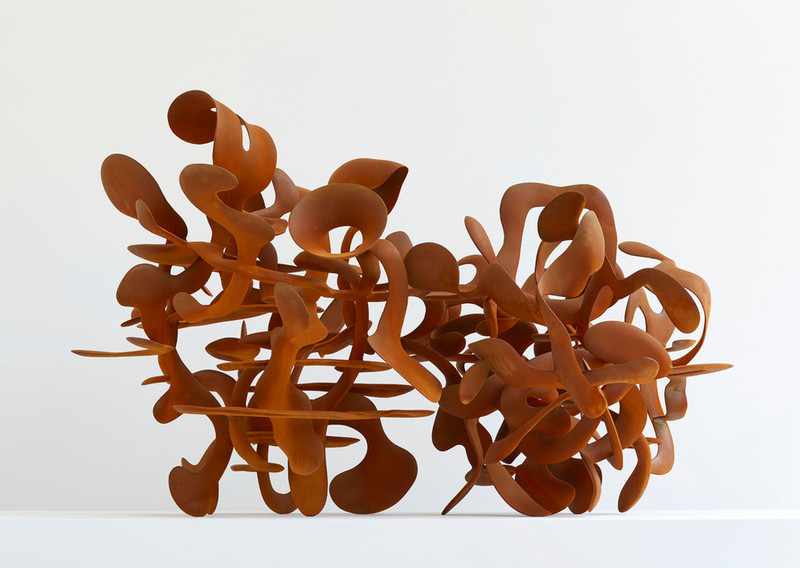 11 Oct 2017
Tony Cragg
Marian Goodman Gallery
Reviewed by Jan Castro
Tony Cragg's recent sculptures challenge viewers to see the insides as well as outsides of materials.
For this exhibition, Cragg's mega-ton work was crane-lifted through the gallery's 4th story windows on 57th Street. Works in bronze, steel, aluminum, wood, and stone entail multiple processes ranging from drawing, casting, and handwork to innovative, computer-assisted visualizations. Each form is unique, labor-intensive, and visually complex.
Thicket (2016), a lyrical steel sculpture four feet high, is a playful version of the light-filled hedges where Cragg played as a child on his grandparents' farm. Sail (2017), an onyx ovoid almost six feet tall, has curving, interlocking convolutions and patterns that give the white stone a radiant light.
Each energy-filled form contains abstract, figurative, rational, and emotional elements. Cragg's art-puzzles allude to their interior spaces and suggest that the deeper knowledge of the world is as crucial to life as what we can see.
| | |
| --- | --- |
| Exhibition | Tony Cragg link |
| Start date | 12 Sep 2017 |
| End date | 14 Oct 2017 |
| Presenter | Marian Goodman Gallery link |
| Venue | 24 West 57th Street, New York City, NY, USA map |
| Image | Tony Cragg, Thicket, 2016, steel, 48 3/8 x 44 1/2 x 53 1/8 inches, courtesy of Marian Goodman Gallery |
| Links | Reviews of current exhibitions near this one |
| Share | Facebook, Twitter, Google+ |