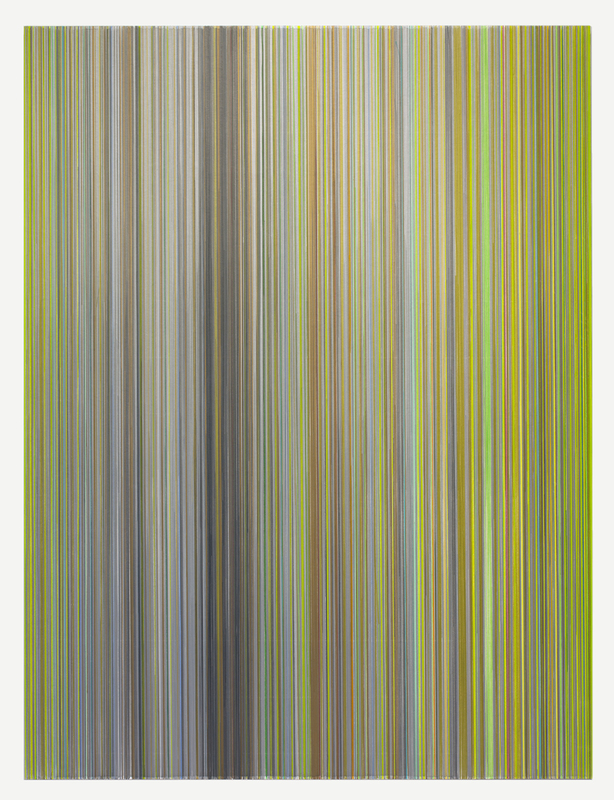 18 Oct 2017
Anne Lindberg: walking as I stand
Carrie Secrist Gallery
Reviewed by Tom Pekovitch
Anne Lindberg builds compositions with a Taoist mentality. The rhythmic repetition of vertical lines in her show at Carrie Secrist, "walking as I stand," creates a striking phosphorescence.
Without diverging from what she does best, Lindberg has extended her reach with the addition of colored pencil to her typically grisaille palette of graphite. The works shimmer like fractals of light emanating from a gem as it is held up to the sun.
Six large drawings illuminate the wall, calling for contemplation, enticed further by a gorgeous wooden bench spanning the space. The flow of the exhibition acts much like the works themselves, pushing and pulling from the boundaries to middle and back again, through ledges and valleys, forged by Lindberg's glimmering color relationships.
Lindberg alchemizes fragments of Agnes Martin and shards of her own original splendor into an enveloping experience. I eagerly await to see what she concocts next in her laboratory.
| | |
| --- | --- |
| Exhibition | Anne Lindberg: walking as I stand link |
| Start date | 15 Sep 2017 |
| End date | 28 Oct 2017 |
| Presenter | Carrie Secrist Gallery link |
| Venue | 835 W. Washington Boulevard, Chicago, IL, USA map |
| Image | Anne Lindberg, To the next nearest there, 2017, graphite and colored pencil on mat board, 80 x 60 inches, courtesy of Carrie Secrist Gallery |
| Links | Reviews of current exhibitions near this one |
| Share | Facebook, Twitter, Google+ |