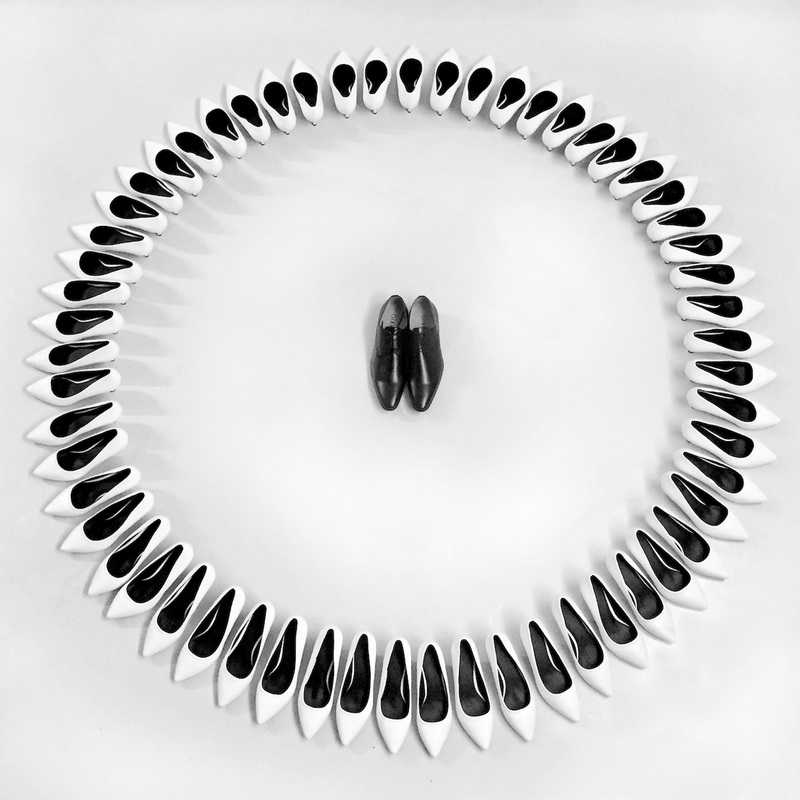 19 Oct 2017
Annette Turrillo: Sublimations
Coral Gables Museum
Reviewed by Elisa Turner
A luxurious sheen infuses high-end retail display, tinting beauty with the pretty and precious, while exalting bold women's contributions to eons of world history. Turrillos's timely show asserts the presence of smart, strong women.
Yet female bodies are oddly absent from this art so imbued with fashion. Witness the circle of white high heels surrounding a pair of men's black shoes in Installation Divergences I. Intricate lace obscures a face with closed eyes and mouth in Lux Perpetua II. They evoke stasis, silence, and sleep, pointing to women disembodied or sublimated, lifted to a disengaged level above neglect and abuse.
Spirituality informs this sublimation. Delicate, painted faces vanish until only lips are left in Face Immanences. These fading presences contrast with her installation Women in History, spotlighting suffragettes, artists, and civic leaders. Their stories are more robust than the nearby art.
| | |
| --- | --- |
| Exhibition | Annette Turrillo: Sublimations link |
| Start date | 01 Sep 2017 |
| End date | 19 Nov 2017 |
| Presenter | Coral Gables Museum link |
| Venue | 285 Aragon Avenue, Coral Gables, FL, USA map |
| Image | Annette Turrillo, Installation Divergences I, 2017, 30 pairs of women's shoes, 1 pair of men's shoes, courtesy of the artist |
| Links | Reviews of current exhibitions near this one |
| Share | Facebook, Twitter, Google+ |