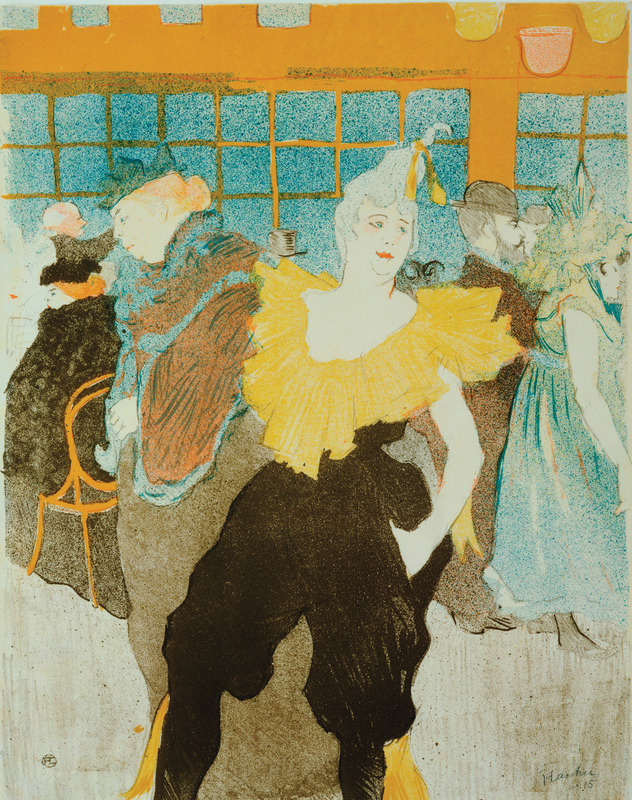 19 Oct 2017
The Paris of Toulouse-Lautrec: Prints and Posters from the Museum of Modern Art
Currier Museum of Art
Reviewed by Franklin Einspruch
The touring exhibition of Henri de Toulouse-Lautrec prints from the collection of the Museum of Modern Art is a stunner. Lautrec seems incapable of putting down an errant mark. His first commercial print is a masterpiece and he only improved from there, inventing a signature spatter technique in lithography and refining an already colossal aptitude for design.
Prominent among several laudable aspects of this work is Lautrec's sense of character. Englishman at the Moulin Rouge (1892) colors the titular figure that of battleship linoleum. As he leans into a properly pink French girl with a hat that surges like Hokusai's wave, she recoils as if he were a muddy dog leaping at her with unwanted affection.
The clown Cha-U-Kao, a central figure of the circle of Parisian lesbians whom Lautrec befriended, saunters through a 1897 print with a knowing expression. The room is orange, suffused with a teal fog. Her arm, drawn with two lines, conveys all of her conviviality and verve.
| | |
| --- | --- |
| Exhibition | The Paris of Toulouse-Lautrec: Prints and Posters from the Museum of Modern Art link |
| Start date | 30 Sep 2017 |
| End date | 07 Jan 2018 |
| Presenter | Currier Museum of Art link |
| Venue | 150 Ash Street, Manchester, NH, USA map |
| Image | Henri de Toulouse-Lautrec, La Clownesse au Moulin Rouge (The Clowness at the Moulin Rouge), 1897, lithograph, sheet: 15 7/8 x 12 11/16 inches, The Museum of Modern Art, New York, Gift of Abby Aldrich Rockefeller, 1946, © The Museum of Modern Art, New York |
| Links | Reviews of current exhibitions near this one |
| Share | Facebook, Twitter, Google+ |