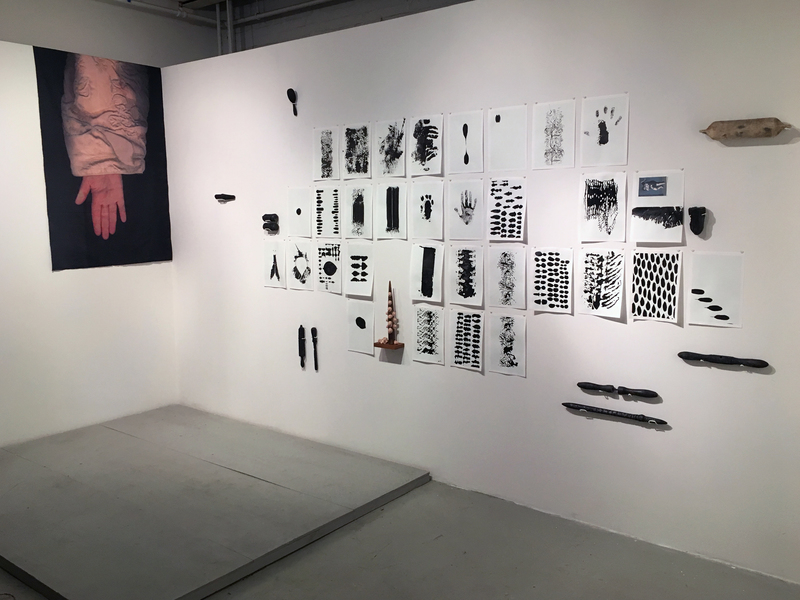 25 Oct 2017
Judith Leemann: Arvensis
Proof Gallery, The Distillery
Reviewed by Heather Kapplow
The tactility and subtle smell of charred wood are cues that this work plans to give up its secrets slowly, through scrutiny. The way it fills Proof Gallery's space also requires a room's-length perspective. It's open and uncluttered, but look up, look down - something is starting or ending everywhere.
Judith Leeman's work forces reflection on surfaces, so the mind begins to categorize materials: wood, burnt wood, split wood, fabric, paper, photo-paper, rubbery Caucasaian-skin-colored clay. Then focus shifts to pressure: marks left behind by ink or char, blackened hands pressing and pulling against one another, glitchery spread thin against the grain of cloth, a tree trunk bent nearly double by something unseen, text so lightly printed that it's almost invisible.
Stacks of postcards make it clear that there is more to glean than what meets the eyes. At the very least, the collective work is a wrestling with the "how" of political struggle, but it hints further at a tale of a killing.