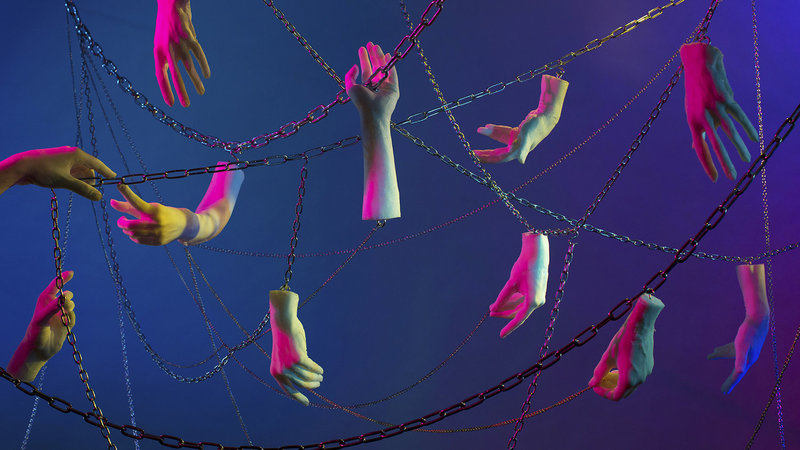 26 Oct 2017
Julie Weitz: The Hand Network, HUMDOG a prelude
Chimento Contemporary
Reviewed by Jeff Hansen
Julie Weitz's The Hand Network, HUMDOG a prelude, a multimedia video project involving choreographed sculpture, cinematography, and a scored soundtrack. The work gives voice to the writings of Carmen "humdog" Hermosillo, a controversial Cuban-American essayist and important figure of cybernetic history and internet subculture.
Cyberspace, depicted as a frozen landscape of ghostly Greek busts, floating hands, penis-shaped candles, and a grid of metal chains, conjures images of the past. A scene of fingertips touching evokes Michelangelo's Creation of Adam.
Weitz gives flesh to the digital with a museum-quality finish. An impeccable C-print hangs in the theater behind viewers like a ghostly sci-fi movie poster. Director David Cronenberg, the YouTube ASMR phenomenon, and philosophers such as Henri Bergson are among many influences on Weitz's anti-CGI aesthetic. The video title, a simple blue font over a black screen, signals the beginning of something mesmerizing, seductive, and new.
| | |
| --- | --- |
| Exhibition | Julie Weitz: The Hand Network, HUMDOG a prelude |
| Start date | 09 Sep 2017 |
| End date | 28 Oct 2017 |
| Presenter | Chimento Contemporary link |
| Venue | 622 South Anderson Street, Space 105, Los Angeles, CA, USA map |
| Image | Julie Weitz, video still from The Hand Network, courtesy of Chimento Contemporary |
| Links | Reviews of current exhibitions near this one |
| Share | Facebook, Twitter, Google+ |