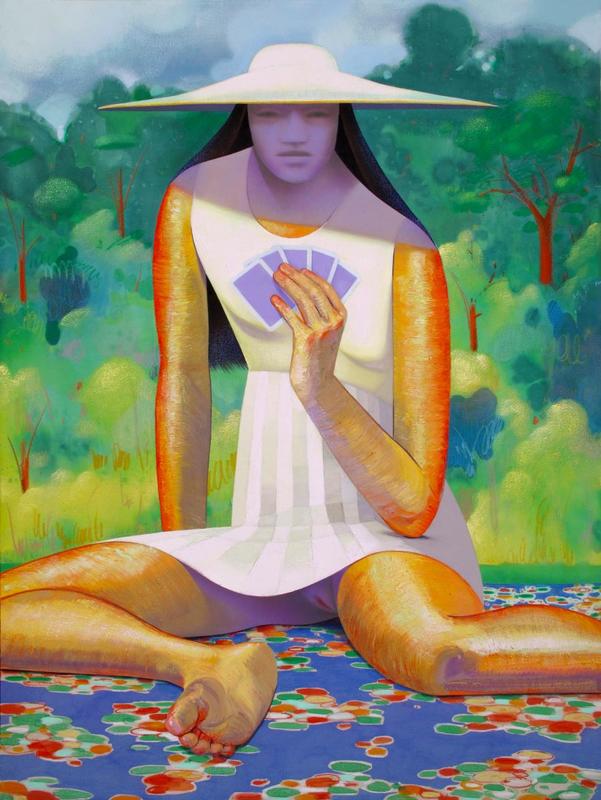 10 Nov 2017
Robin F. Williams: Your Good Taste Is Showing
P.P.O.W.
Reviewed by Franklin Einspruch
When I told a friend that I was reviewing the 2013 Balthus exhibition at the Met, subtitled "Cats and Girls," she replied, why didn't they just call it "Pussy"? They couldn't, but Robin F. Williams picks up the themes and runs with them.
Her women are objectified aggressively. That seems to be the point, but they are enjoying themselves, hanging out naked in the street. One of them tosses her head back and parts her lips as she digs gently around in her salad. If it's commodification, they like it.
Balthus figures into this project, but so do late Renoir and Mark Kostabi. Williams employs inventive technical mixes of paint that are the real shove against taste here, not all the glorious labia. Sunday Player (2016) sternly challenges us to poker, her skin golden in the light and violet in the shadows under her Chinese hat and up her Western skirt, where the eye level is set. Even when you're aware of it, manipulation works. That may finally be a tragedy for all involved.
| | |
| --- | --- |
| Exhibition | Robin F. Williams: Your Good Taste Is Showing link |
| Start date | 12 Oct 2017 |
| End date | 11 Nov 2017 |
| Presenter | P.P.O.W. link |
| Venue | 535 West 22nd Street, New York City, NY, USA map |
| Image | Robin F. Williams, Sunday Player, 2016, oil, airbrush acrylic, and oil pastel on canvas, 50 x 40 inches,courtesy of P.P.O.W. |
| Links | Reviews of current exhibitions near this one |
| Share | Facebook, Twitter, Google+ |