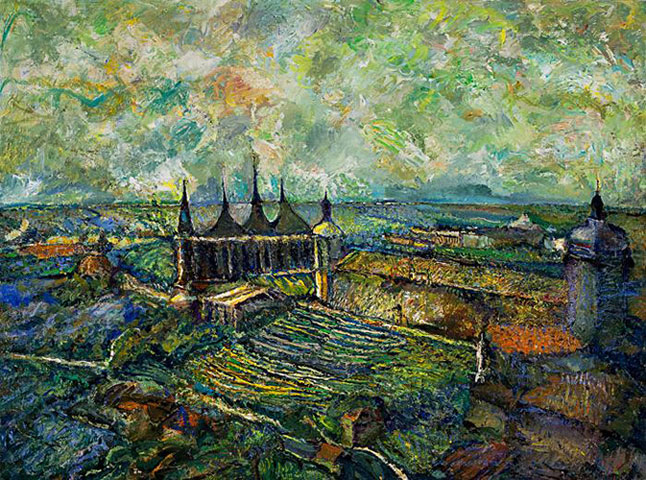 16 Nov 2017
Arthur Levine: Paintings and Drawings
Prince Street Gallery
Reviewed by Petey Brown
Arthur Levine's quirky, eccentric paintings begin with line drawings. Within these structures, his 19th-century subjects - ships, castles, romantic landscapes - are springboards for an exuberant assault of wet-into-wet paint. Ferocious brushstrokes build luminous surfaces. Levine finds passion and mystery where Van Gogh found them, tethered to the earthy heaviness of the artist's materials. In Galleon, a ship with bulbous sails seems to burst out of the format, displaying an energy unwilling to be contained. This animated quality underscores its forcefulness.
In contrast, the pencil drawings, made from direct observation, are considered, sensitive, and meditative. Seen from a distance they recall the delicacy of Chinese scrolls. One unusual drawing captures the abstract pattern of a baseball field.
The counterpoint of exhibiting muscular paintings alongside quiet drawings offers a comprehensive view of this surprising artist.
| | |
| --- | --- |
| Exhibition | Arthur Levine: Paintings and Drawings |
| Start date | 31 Oct 2017 |
| End date | 25 Nov 2017 |
| Presenter | Prince Street Gallery link |
| Venue | 530 West 25th Street, 4th Floor, New York City, NY, USA map |
| Image | Arthur Levine, Kunta Hora, 2016, acrylic on panel, 23 x 32 inches, courtesy of Prince Street Gallery |
| Links | Reviews of current exhibitions near this one |
| Share | Facebook, Twitter, Google+ |