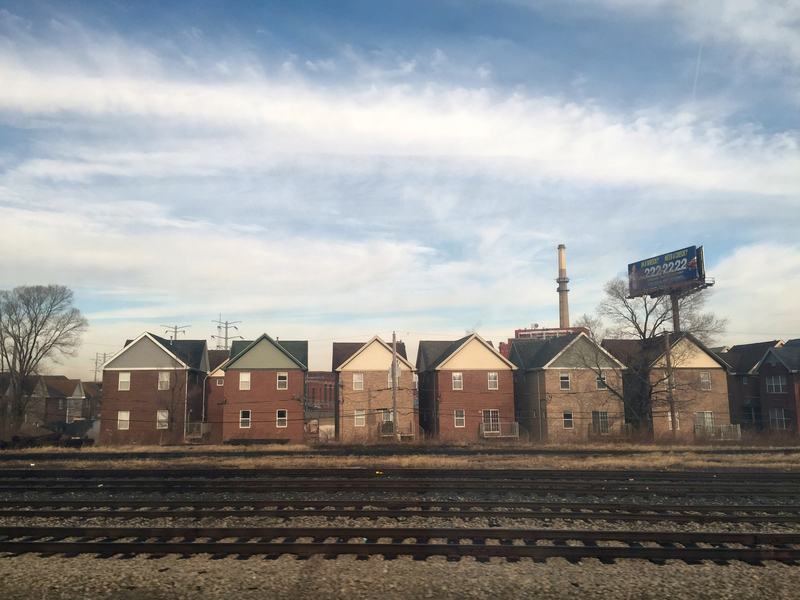 17 Nov 2017
Jin Lee: Train View
Devening Projects + Editions
Reviewed by Tom Pekovitch
Aboard a regular commute from Chicago to Bloomington, equipped only with an iPhone and an assigned seat, Jin Lee offers up an analysis of mundanity and a look inside the American Midwest in her Train View series.
A blur of normalcy, passing by at 59 miles per hour, is suspended in time and dissected. From routine peering outside the window and focusing back inside the train car, beautiful geometric compositions hidden in landscapes and buildings of the rural Midwest materialize, along with intimate relationships with the other passengers.
Lee's collection of observations offer a captured reflection of our world which is constantly being disregarded, and replaced continuously with the visual stimuli surrounding us. Her works dare to upset the ever-developing composite of regularity and to slow down the digestion of our bearings. It is a commendable endeavor, if for nothing more than further appreciation.
| | |
| --- | --- |
| Exhibition | Jin Lee: Train View link |
| Start date | 22 Oct 2017 |
| End date | 09 Dec 2017 |
| Presenter | Devening Projects + Editions link |
| Venue | 3039 W Carroll Avenue, Chicago, IL, USA map |
| Image | Jin Lee, Houses, 2014-16, archival pigment print, 25 x 19 inches, courtesy of Devening Projects + Editions |
| Links | Reviews of current exhibitions near this one |
| Share | Facebook, Twitter, Google+ |