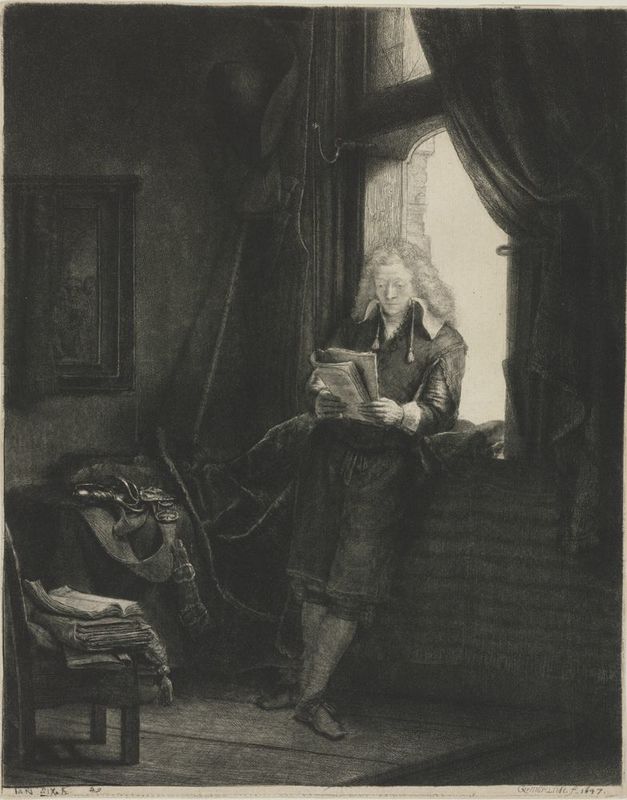 21 Nov 2017
Lines of Inquiry: Learning from Rembrandt's Etchings
Johnson Museum of Art, Cornell University
Reviewed by Arthur Whitman
Rembrandt's etchings are in the Johnson's blood. "Lines of Inquiry," the museum's largest such exhibit yet, corrals landscape, portraits, and narrative scenes high and low. With extensive loans, viewers can compare versions of key works, revealing sometimes dramatic alterations between states as well as variations of inking and paper.
Self-portraits show capacious reinvention while images of notables like writer-collector Jan Six display a disarming naturalism of surface and gesture. Four versions of Clement de Jonghe, Printseller (1651) demand perlustration as quiet detail accumulates.
Embodying complex humanism and bravura experiment, Rembrandt's Bible scenes stand out. The Flight into Egypt (1652) famously reworks a plate from Hercules Segers, preserving the older artist's spongiform landscape. Chiaroscuro becomes dramatic actor in The Three Crosses (1653). Similarly, a foreground crowd is effaced while shadows deepen between two states of Christ Presented to the People (1655).
| | |
| --- | --- |
| Exhibition | Lines of Inquiry: Learning from Rembrandt's Etchings link |
| Start date | 23 Nov 2017 |
| End date | 17 Dec 2017 |
| Presenter | Johnson Museum of Art link |
| Venue | Cornell University, 114 Central Avenue, Ithaca, NY, USA map |
| Image | Rembrandt Harmensz. van Rijn, Jan Six, 1647, etching, engraving, and drypoint, collection of the Frances Lehman Loeb Art Center, Vassar College, courtesy of the Johnson Museum of Art |
| Links | Reviews of current exhibitions near this one |
| Share | Facebook, Twitter, Google+ |