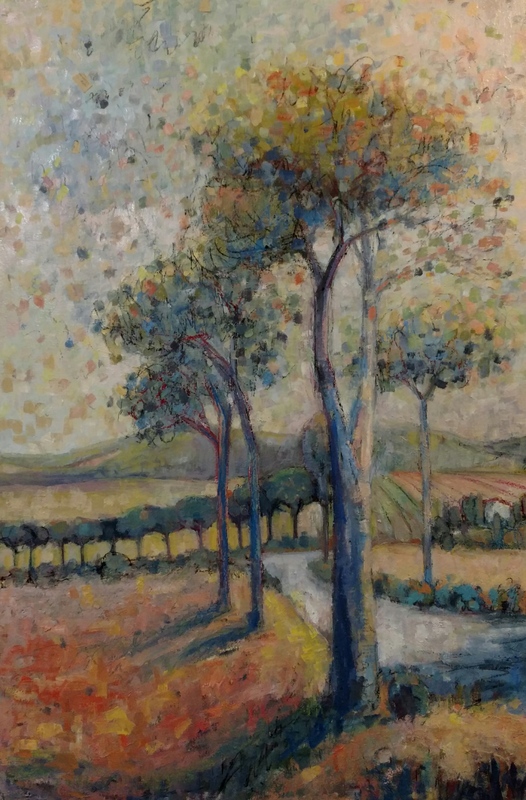 21 Nov 2017
Among Friends: Judith Brassard Brown, Wendy Goldberg, and Martha Rhodes
Kingston Gallery
Reviewed by Debbie Hagan
In a painting by Judith Brassard Brown, a road with Italian stone pines leads past ripened fields and a farmhouse, then disappears into green-carpeted hills. A hazy confetti sky, with collaged fragments from old messages floating beneath the surface, suggests a reverie.
The same thought occurs in looking at Wendy Goldberg's pastels, with their majestic gold-dappled skies streaked with clouds. In Night on the River, the viewer looks from the water back at land through a watery lens. The foggy scene creates a longing for more clarity, the way one struggles to understand dreams or piece together memories. A similar effect occurs in reading Martha Rhodes' poems from The Thin Wall, showing characters in conflict, often in a state of confusion or wonder.
Since Freud, artists have used fantastic images to illustrate the deep workings of the mind. In "Among Friends," the artists more calmly explore the subconscious and ponder what's yet to be discovered.
| | |
| --- | --- |
| Exhibition | Among Friends: Judith Brassard Brown, Wendy Goldberg, and Martha Rhodes link |
| Start date | 01 Nov 2017 |
| End date | 26 Nov 2017 |
| Presenter | Kingston Gallery link |
| Venue | 450 Harrison Ave, No. 43, Boston, MA, USA map |
| Image | Judith Brassard Brown, Downhill Road, 2017, mixed media on canvas, 23 x 49 inches, courtesy of Kingston Gallery |
| Links | Reviews of current exhibitions near this one |
| Share | Facebook, Twitter, Google+ |