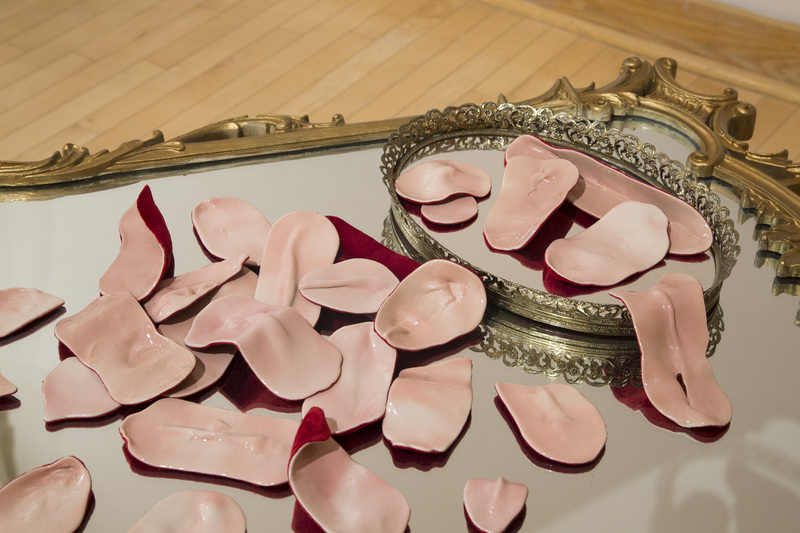 01 Dec 2017
Samantha Fields: Mistress, Miss, Mrs or Ms, Madam?
Gallery at Barrington Center for the Arts, Gordon College
Reviewed by John Pyper
"Mistress, Miss, Mrs or Ms, Madam?" jostles with multiple bodies of work. Intensely buzzing sculptures built from hundreds of hours of handiwork live next to whispering - but no less intense - wall hangings. Exceptionally well thought-out fiber pieces, made by removing the weft or warp from two different fabrics and combining them into one, live next to aimless orchestrations of cast-ceramic replicas.
The main theme is gender performance, but the standout works softly deal with repetition, the hermeneutic circle of string and fabric, integration versus assimilation, and mimicry.
Whether fabric, beads, or social structures, the show asks how and where can discordant elements work together. There is no universal chorus to Fields's verse, but her tune rings in the affirmative. Women are more than handiwork. Fiber is more than craft. Chintzy fabric can accompany silk. The political can employ formalism and aesthetic theory can result in practical solutions.
| | |
| --- | --- |
| Exhibition | Samantha Fields: Mistress, Miss, Mrs or Ms, Madam? |
| Start date | 28 Oct 2017 |
| End date | 12 Dec 2017 |
| Presenter | Gallery at Barrington Center for the Arts, Gordon College link |
| Venue | 255 Grapevine Road, Wenham, MA, USA map |
| Image | Samantha Fields, Tongues of Fire, installation view, courtesy of Gordon College |
| Links | Reviews of current exhibitions near this one |
| Share | Facebook, Twitter, Google+ |