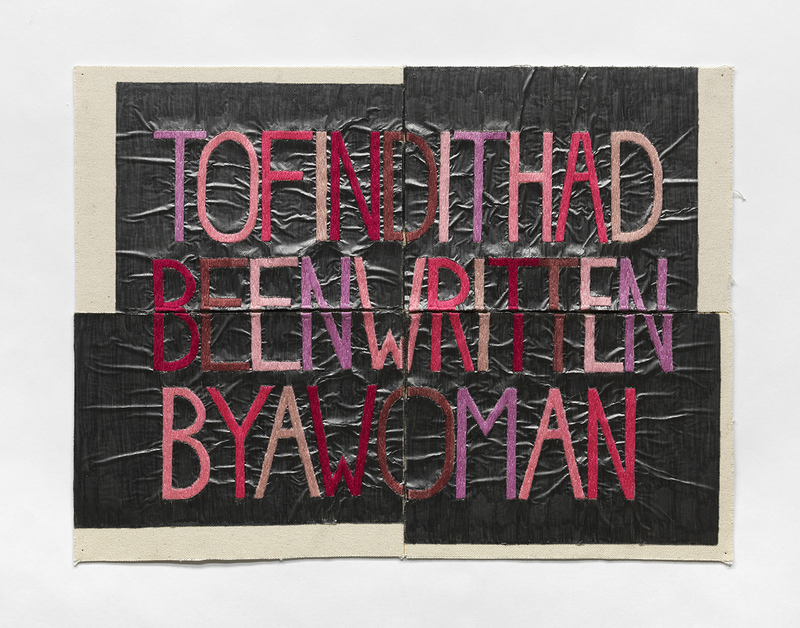 08 Dec 2017
Dianna Frid: It Takes Time
University Galleries of Illinois State University
Reviewed by Nina Versenyi
In "It Takes Time," Mexico-born artist Dianna Frid explores the materiality of language through text. Excerpts from New York Times obituaries, poems, and philosophical works are hand-stitched into embroidered canvas and graphite-covered paper, with spaces and punctuation omitted. Interspersed among the text-based works are sculptures, collages, and artist's books featuring stones geologically native to Mexico, images of Greek and Roman sculptures, and Frid's characteristic embroidery.
In Hilo de Vías (Thread of Tracks) (2017), each word occupies its own line. Unlike the majority of Frid's text-based work, this piece is in Spanish, forcing the viewer to consider their own use and understanding of language. The lack of linguistic guideposts provokes a slow, intimate reading of Frid's text-textiles.
Frid's work both invites and alienates. Some pieces are easily read. Others taunt, comprehension tantalizingly out of reach.
| | |
| --- | --- |
| Exhibition | Dianna Frid: It Takes Time link |
| Start date | 21 Oct 2017 |
| End date | 17 Dec 2017 |
| Presenter | University Galleries of Illinois State University link |
| Venue | 11 Uptown Circle, Suite 103, Normal, IL, USA map |
| Image | Dianna Frid, NYT, Aug. 23, 2014, Simin Behbahani (from the series Words from Obituaries), 2016, canvas, paper, embroidery floss, and graphite, 15 x 20 inches, courtesy of the artist. |
| Links | Reviews of current exhibitions near this one |
| Share | Facebook, Twitter, Google+ |