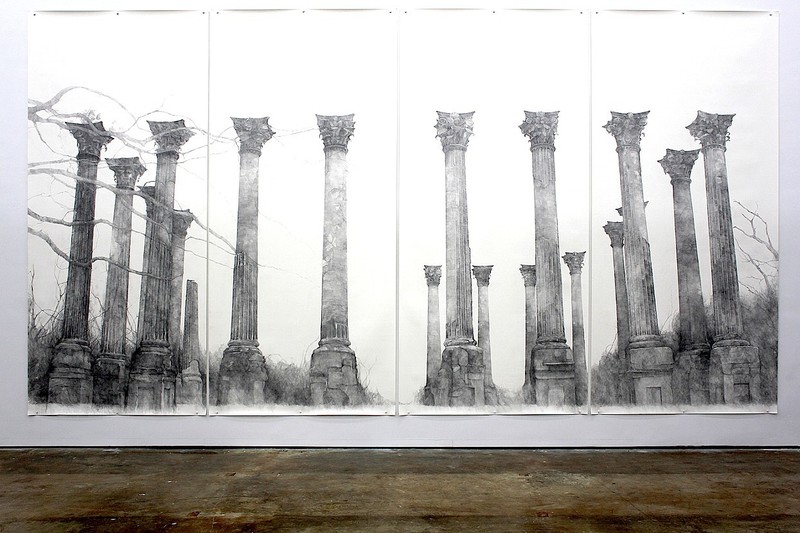 14 Dec 2017
Christina Pettersson: Mythology and Site
Deering Estate
Reviewed by Elisa Turner
"Mythology and Site" by Christina Pettersson at the Deering Estate weds inventive art to her deep dive into the history of place and region. Famed for its coastal environment, the estate embodies a rich cultural context for South Florida.
Pettersson takes cues from the architecture and contents of industrialist Charles Deering's Stone House (ca. 1922), a Mediterranean Revival structure inspired by the 11th-century Tamarit Castle on the Spanish coast. The site's many layers of history move into the present with her room-by-room installation of over twenty mixed media works, paired with objects belonging to the artist and the estate.
Her finely detailed graphite drawings are stunning. Quirky twists enchant, such as the woman unconcerned that a ram's horn grows from her head.
In the mural-sized The Terrible Knowing & Not Knowing (2014), cautionary rows of Greek columns support nothing. They depict 19th-century American fantasies of European grandeur vanished into thin air.
| | |
| --- | --- |
| Exhibition | Christina Pettersson: Mythology and Site |
| Start date | 18 Oct 2017 |
| End date | 05 Jan 2018 |
| Presenter | Deering Estate link |
| Venue | 16701 SW 72nd Avenue, Palmetto Bay, FL, USA map |
| Image | Christina Pettersson, The Terrible Knowing & Not Knowing, 2014, graphite on paper, four panels, 156 x 288 inches, courtesy of the artist |
| Links | Reviews of current exhibitions near this one |
| Share | Facebook, Twitter, Google+ |