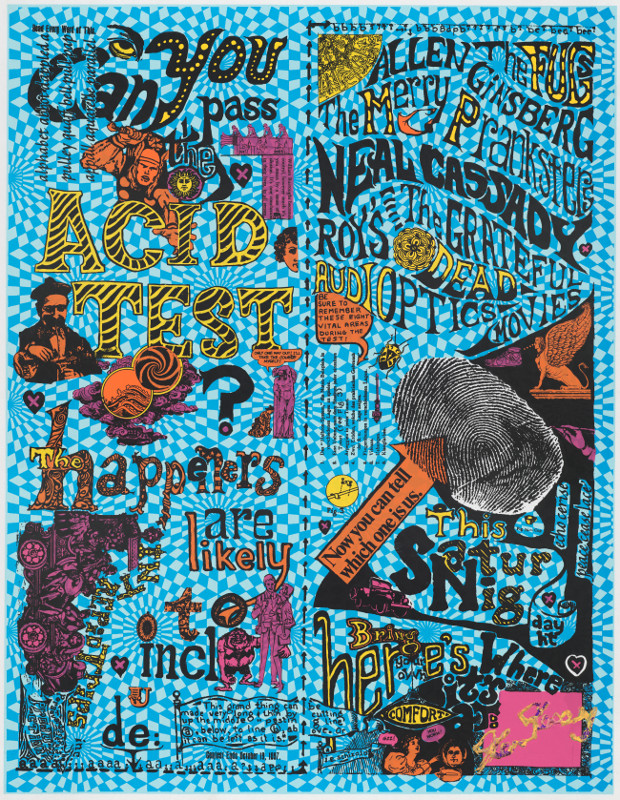 14 Dec 2017
Altered States: Sex, Drugs, and Transcendence in the Ludlow-Santo Domingo Library
Houghton Library, Harvard University
Reviewed by Heather Kapplow
The aesthetics of drug culture and illicit sexual activity are celebrated via posters, books and paraphernalia from a collection donated to the library by Julio Mario Santo Domingo, Jr. (1957-2009). Each vitrine, focused on a subject like opium, LSD, or cocaine, contains at least one item likely to bring on a chuckle.
Peak pieces in the show include a psychedelic poster by Norman Hartweg and Paul Foster, Can You Pass The Acid Test? (1965), advertising an event featuring such "happeners" as The Fugs, The Merry Pranksters, Neal Cassady, Allen Ginsberg, and The Grateful Dead (apparently their first show.) The poster is signed in gold sealing wax by Ken Kesey.
Also of interest is an interactive, limited edition of Robert Sabbag's 1976 novel, Snowblind, designed by Damien Hirst, and Greenleaf Press's conceptual art piece, The Illustrated Presidential Report of the Commission on Obscenity and Pornography, a hardcore version of the 1969 report ordered by Lyndon Johnson.
| | |
| --- | --- |
| Exhibition | Altered States: Sex, Drugs, and Transcendence in the Ludlow-Santo Domingo Library link |
| Start date | 05 Sep 2017 |
| End date | 16 Dec 2017 |
| Presenter | Houghton Library, Harvard University link |
| Venue | 15 Quncy Street, Cambridge, MA, USA map |
| Image | Norman Hartweg and Paul Foster, Can You Pass The Acid Test, 1965, poster, courtesy of the Houghton Library, Harvard University |
| Links | Reviews of current exhibitions near this one |
| Share | Facebook, Twitter, Google+ |