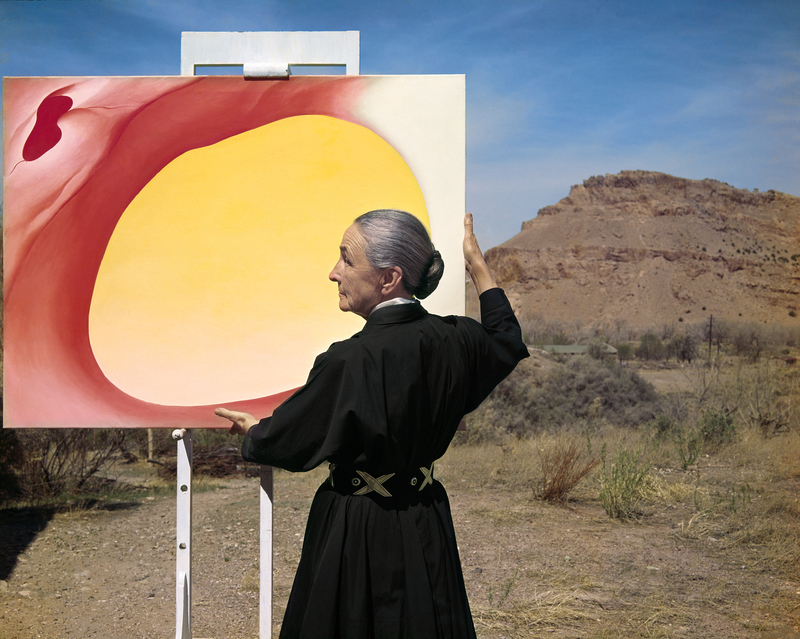 18 Dec 2017
Georgia O'Keeffe: Art, Image, Style
Peabody Essex Museum
Reviewed by Franklin Einspruch
Some people want to make art. Some people want to be artists. As desires, they overlap. As ambitions, they diverge.
Georgia O'Keeffe labored at self-presentation. Her partnership with Alfred Stieglitz no doubt prompted that. So did a deliberate artistic mien. "Art, Image, Style" puts plenty of paintings on display, but sharp clothing, much of which the artist sewed, upstages them. Numerous photographs of O'Keeffe, taken by Stieglitz, Ansel Adams, Arnold Newman, and others, reinforce the impetus to look at her rather than her art, or rather, to look at her and her part-Scandinavian, part-Asian design predilections staged at her home in the desert Southwest as a work of art in itself.
Arguably it was, but this treatment reveals her as a clotheshorse whose talent for submitting to the camera exceeded that of mastering the brush. The several paintings that don't feel bedeviled by problems of color, composition, or rendering come as a relief, as the rest of them puncture the O'Keeffe icon.
| | |
| --- | --- |
| Exhibition | Georgia O'Keeffe: Art, Image, Style link |
| Start date | 16 Dec 2017 |
| End date | 01 Apr 2018 |
| Presenter | Peabody Essex Museum link |
| Venue | 161 Essex Street, Salem, MA, USA map |
| Image | Tony Vaccaro, Georgia O'Keeffe with "Pelvis Series, Red with Yellow" and the desert, 1960, Georgia O'Keeffe Museum, courtesy of Tony Vaccaro studio |
| Links | Reviews of current exhibitions near this one |
| Share | Facebook, Twitter, Google+ |