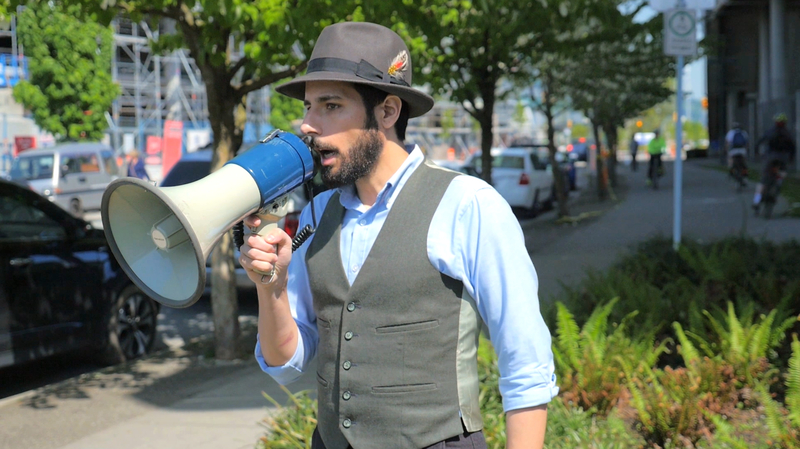 18 Dec 2017
Carmen Papalia: Open Access: Practicing Accessibility Together
Gallery 344, City Hall Annex
Reviewed by Franklin Einspruch
Carmen Papalia is blind, and his art has him setting up public scenarios - duly recorded - in which he makes adventuresome changes to his usual habits of navigation. Two videos by the artist are on display at Gallery 344. In one he trades his red-tipped cane for a megaphone, announcing to anyone nearby that he needs help getting across a street. It doesn't work out so well.
In the other video he has exchanged his cane for a high school marching band, instructed to play various tunes depending on whether the way is clear or blocked, level or uneven. He is able to enter a bodega and order a soda, accompanied by tubas and cymbals.
Papalia plays it for laughs, but the piece has genuine vulnerability in it, and not just in the respect that he might fall down a curb. A poem printed on the wall and floor divides the gallery, noting "your palms / hold reference / to gates / to walls and woodgrain." It testifies to experiences seen by unusual means, but thorough ones.
| | |
| --- | --- |
| Exhibition | Carmen Papalia: Open Access: Practicing Accessibility Together |
| Start date | 18 Sep 2017 |
| End date | 29 Dec 2017 |
| Presenter | Gallery 344 link |
| Venue | City Hall Annex, 344 Broadway, Second Floor, Cambridge, MA, USA map |
| Image | Carmen Papalia, still from Mobility Device, 2013, video, courtesy of Gallery 344 |
| Links | Reviews of current exhibitions near this one |
| Share | Facebook, Twitter, Google+ |