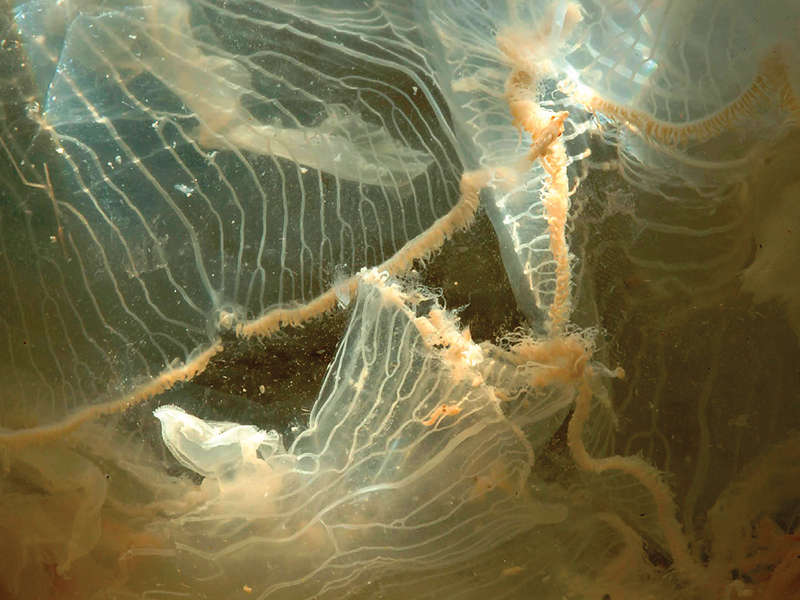 29 Dec 2017
Michele Oka Doner: Into the Mysterium
Lowe Art Museum
Reviewed by Elisa Turner
Michele Oka Doner calls this show a "bouquet to the future," acknowledging a time when her hometown of Miami Beach will be transformed if not submerged by rising seas. Bittersweet and beautiful, 55 photos and a mesmerizing four-channel video offer close-up views of radiant, undulating forms of marine life.
Translucent membranes in Double Portals describe doorways to a primal, sacred world, touched by sunlight filtered through waves. Ocean and sky appear to trade places in Cosmic Dance so that starlight seems to bathe a silvery, umbrella-shaped jellyfish, as its stinging tentacles quiver.
The show documents this prolific artist's discovery of a University of Miami treasure: the contents of 93,000 specimen jars collected by the Marine Invertebrate Museum at the Rosenstiel School of Marine and Atmospheric Science.
Doner's mindful, reverential photos reveal that life abounds for better or worse in the land of elevating waters. "All of us are originally natives of the sea," she observes.