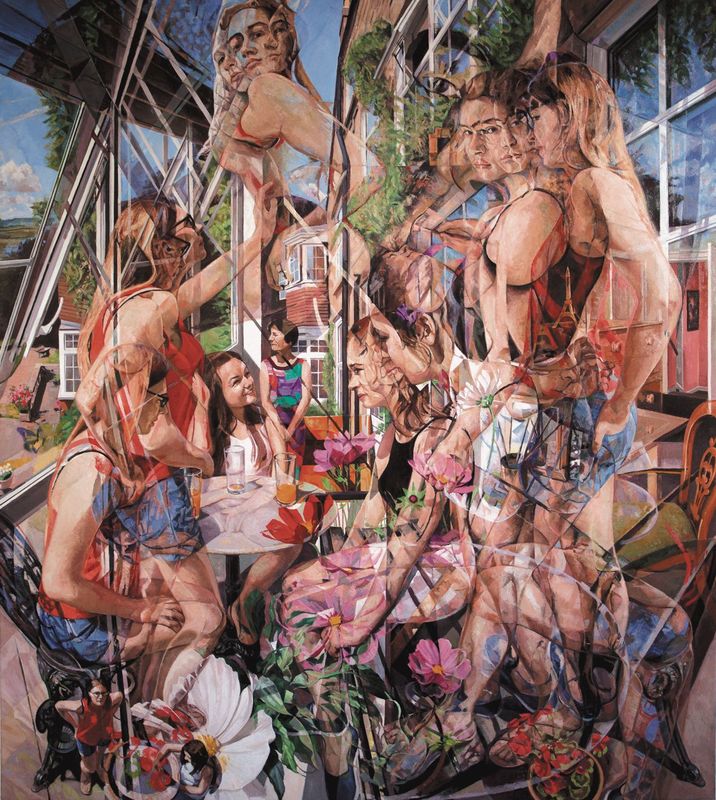 04 Jan 2018
Clive Head: Zoetic-Realism
Hollis Taggart Galleries
Reviewed by Franklin Einspruch
In contrast to the quasi-photorealism that characterized his previous work, Clive Head's recent approach multiplies images together. The product is Cubism via a new and original means. Contours of numerous, slightly offset views of the same subjects result in spaces that give the impression of a controlled shatter.
Summer Ark (2015) is a tribute to the artist's daughters and the thousand gestures they made on one warm morning. Chevrons of hothouse windows intersect with a vortex of womanly curves. Garden, porch, and bedroom merge into an ode to fecundity in which the whole family takes part. It is strewn with flowers from beyond the edge of the painting, folded back within it so as to bless this scene.
He employs the camera, but its magic doesn't compare to Head's sorcery of touch and invention. Objects of such luscious physicality could only have been painted. They compress interiors and exteriors, both literal and psychological, into works that invite prolonged delectation.
| | |
| --- | --- |
| Exhibition | Clive Head: Zoetic-Realism link |
| Start date | 16 Nov 2017 |
| End date | 06 Jan 2018 |
| Presenter | Hollis Taggart Galleries link |
| Venue | 521 West 26th Street, New York City, NY, USA map |
| Image | Clive Head, Summer Ark, 2015, oil on canvas, 86 5/8 x 77 1/2 inches, courtesy of Hollis Taggart Galleries |
| Links | Reviews of current exhibitions near this one |
| Share | Facebook, Twitter, Google+ |