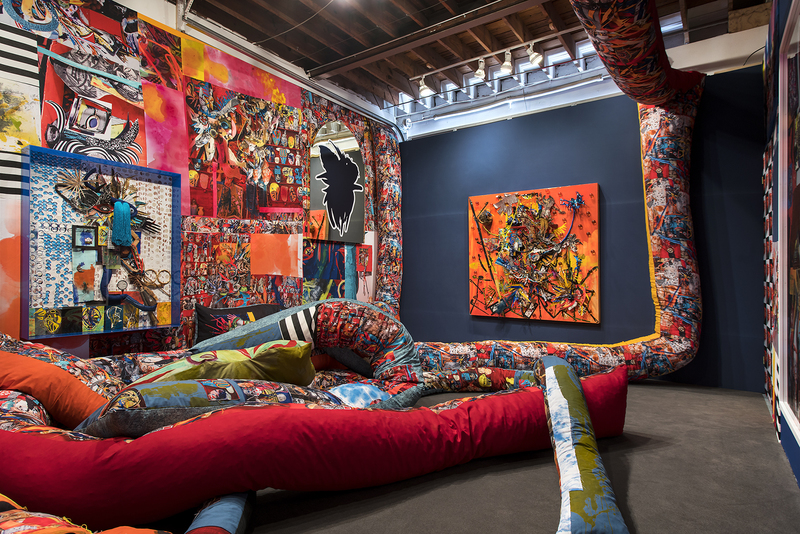 16 Jan 2018
Pepe Mar: Man of the Night
Locust Projects
Reviewed by Elisa Turner
Imagine this: Joseph Cornell's collages surging with steroids and embedded with the head-spinning, Op-Art brio of Julio Le Parc's installations. That's one way to describe the sensation of walking into the intimate, boxy gallery installed with Pepe Mar's "Man of the Night" at Locust Projects.
It's both fun and formally arresting. He has reset conventions of collage and quilting by constructing assemblages with flamboyant tubes of fabric undulating in all directions. This allows audacious, appliqued imagery to push forward with 3-D verve into visual choreography.
The eye ricochets across images of Mexican masks, tropical flora, drag queens, and an actual Moschino t-shirt in fuchsia and black zebra stripes. They commingle with the artists' collection of ephemera from defunct gay clubs in Miami and San Francisco, enhancing Mar's celebration of queer spaces for the mind and body, threaded with fond nods to the past and a joyful generosity to uplift the present.
| | |
| --- | --- |
| Exhibition | Pepe Mar: Man of the Night |
| Start date | 18 Nov 2017 |
| End date | 27 Jan 2018 |
| Presenter | Locust Projects link |
| Venue | 3852 North Miami Avenue, Miami, FL, USA map |
| Image | Pepe Mar, installation view, Man of the Night, 2017, photo Zach Balber, Ginger Photography, image courtesy of David Castillo Gallery |
| Links | Reviews of current exhibitions near this one |
| Share | Facebook, Twitter, Google+ |