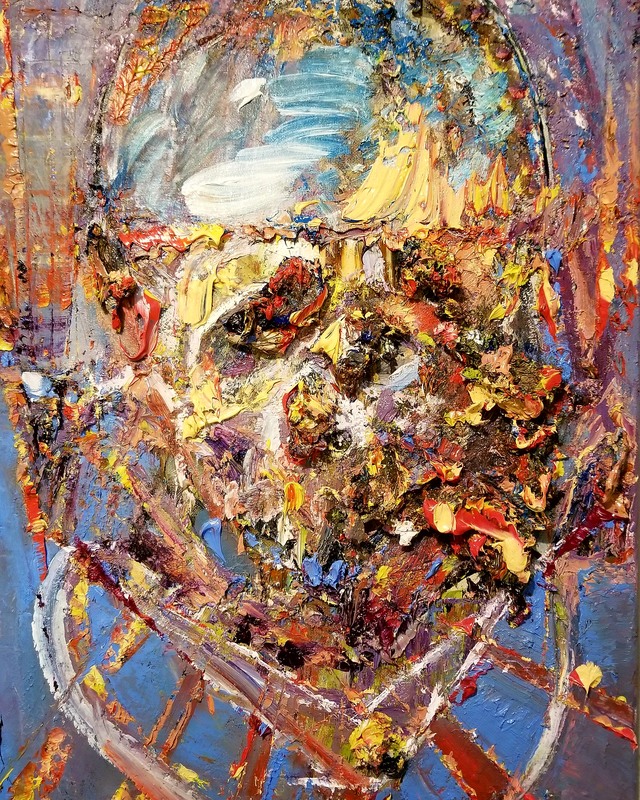 26 Jan 2018
Jordan Massengale: Mask: Squash and Stretch
Flowerbox Projects
Reviewed by Kerry Ware
Jordan Massengale's show feels like a journey back to the early 20th century, when certain artists were called fauves - beasts.
Massengale's works are strongly colored, with paint application ranging from flat to globbed. In the wrong hands this is a recipe for disaster, but Massengale excels at it. The works are inspired by primitive masks, and put through an immense diversity of paint handling. They're not pretty. "Nastily brutal" would be more like it.
Most of the works are modest in size but explode off the canvas. Some of them verge on mannered, but they're too fun to look at to mind it. Massengale is a painter who can reach back into history, and interpret what he finds there with strong results. This series is just one aspect of what he produces. He also possesses great skills as a traditional painter. But when moved to do so he can push beyond them, from obvious depiction to an obliteration of form.
| | |
| --- | --- |
| Exhibition | Jordan Massengale: Mask: Squash and Stretch |
| Start date | 13 Jan 2018 |
| End date | 11 Feb 2018 |
| Presenter | Flowerbox Projects link |
| Venue | 5708 NE 4th Avenue, Miami, FL, USA map |
| Image | Jordan Massengale, The Trembling Voyager, 2017, oil on canvas, 18 x 24 inches, courtesy of the artist |
| Links | Reviews of current exhibitions near this one |
| Share | Facebook, Twitter, Google+ |