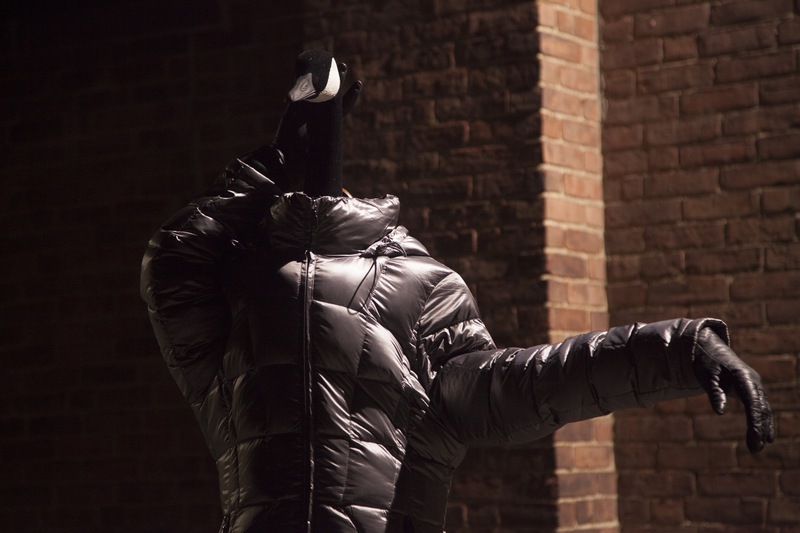 01 Feb 2018
Sandrine Schaefer: Pace Investigations No. 6
Mobius, Watch Factory Riverwalk
Reviewed by Heather Kapplow
On December 21, a scant crowd of humans, a stream of commuting vehicles, and a sliver of moon witnessed a series of gestures aimed at lighting fixtures, a goose-shaped hunting decoy, and the ground. The small audience bundled against the cold, and trekked back and forth for 105 minutes between The Watch Factory Riverwalk's Northern and Southern docks, where Schaefer repeats a cycle of enigmatic actions at varying speeds.
An assistant handed out tiny flashlights. It was hard to see what was happening without them, or even with them. Schafer lit a candle in a corner and faced the sky. Eventually it blew out. Cars honked on a bridge nearby. It's durational work, made up of many micro-durations.
A goose head emerged from Schafer's jacket neck, forming an enormous goose shadow on the ground. The jacket stored other components: a rock that skidded on the ice, a mirror, heavy breathing. Schaefer handed out lit candles, requesting that they be cared for. A digital gong rang to mark the end.
| | |
| --- | --- |
| Exhibition | Sandrine Schaefer: Pace Investigations No. 6 link |
| Start date | 22 Sep 2017 |
| End date | 21 Jun 2018 |
| Presenter | Mobius link |
| Venue | Watch Factory Riverwalk, 185 Crescent Street, Waltham, MA, USA (on the public walkway near the North Dock) map |
| Image | Sandrine Schaefer, Pace Investigations No. 6.2, performance, 2017 |
| Links | Reviews of current exhibitions near this one |
| Share | Facebook, Twitter, Google+ |