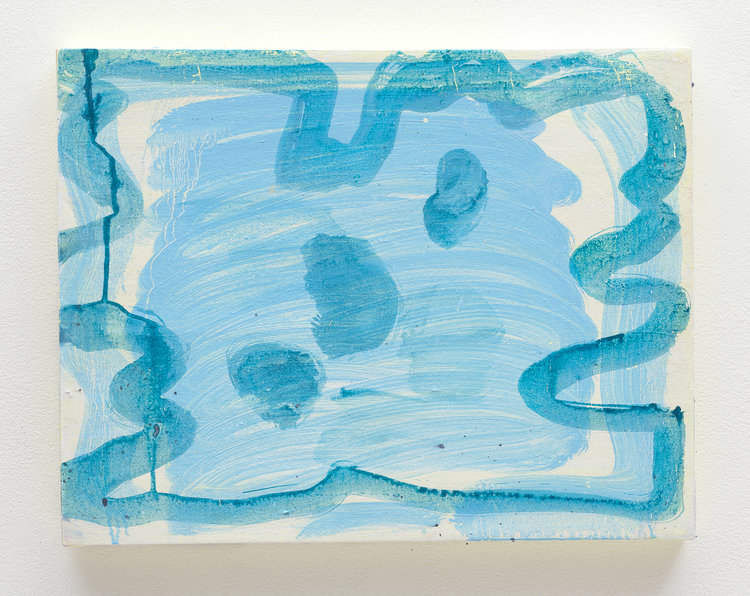 11 Nov 2016
Liza Bingham: Hot Pink, Soft Pink, Rusty Orange, White
How's Howard?
Reviewed by Elizabeth Michelman
Liza Bingham's small "upholstered" works of acrylic and oil on muslin-covered panel are inartful and fresh. Bingham defies the norm of flatness by shredding the edges of the muslin, lapping it awkwardly over the rims of the wooden support and under-padding her gritty surfaces. She hangs the pieces unframed and leans a few on bright plastic chair-backs.
Dragging a loaded brush around a template, she introduces accidental variations to a repeated master shape. The ragged contours press outwardly on the perimeter; inwardly they enclose a few smudges and stains floating in a scumbled, amniotic void. In some sensual variants, two jagged forms interleave.
Bingham's minimal color contrasts individuate the paintings. Some blaze like a Rothko; others are cold and aloof. A sunset of lavender fondles pinks and orange; streaks of Prussian blue bathe in a sea of fleshy orange-yellow; orange and ochre slash into lazy smears of pale pink. Each piece compels us to look and holds us apart.
Exhibition
Liza Bingham: Hot Pink, Soft Pink, Rusty Orange, White
Start date
04 Nov 2016
End date
11 Dec 2016
Presenter
How's Howard? link
Venue
450 Harrison Avenue, Suite 309c, Boston, MA, USA map
Image
Liza Bingham, Cartoon Romulus and Remus, 2016, acrylic and oil on muslin on panel, 14 x 18 inches, courtesy of How's Howard?
Links

Reviews of current exhibitions near this one

Reviews by Elizabeth Michelman

Share
Facebook, Twitter, Google+