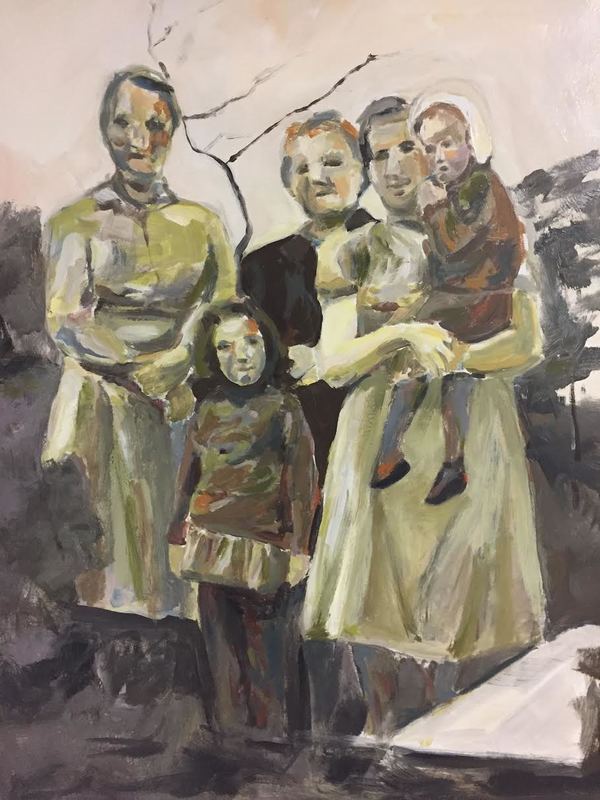 20 Apr 2017
Faina Markovna Lerman: Family Album
Cave, Russell Industrial Center
Reviewed by Sarah Rose Sharp
There is something to be said for good paintings, regardless of context. But when the creator of good paintings has somehow taken time to paint them, in addition to raising her young family and developing a burgeoning community art space, they become a triumph of the human spirit. Faina Lerman is known in Detroit for the artist residency and gallery she co-operates with her husband, her hilarious performance art duo, and being a loving mother. But she is not known for her work as a painter.
Is there something political about a woman so dedicated to working with others taking time for a personal practice? Undoubtedly. Is there something poignant about this solo show, "Family Album," that nonetheless turns a painterly eye back toward domesticity? Certainly. Is there a hostess's touch to the exhibition details, which lavished as much attention on the opening night spread as the hanging of the work? Charmingly so.
But most importantly, are these good paintings? Yes, very.
| | |
| --- | --- |
| Exhibition | Faina Markovna Lerman: Family Album |
| Start date | 14 Apr 2017 |
| End date | 12 May 2017 |
| Presenter | Cave link |
| Venue | Russell Industrial Center, 1600 Clay Street, Detroit, MI, USA (Building 4, 3rd Floor) map |
| Image | Faina Markovna Lerman, The Babas and babies on Fetzer Farm (Ogre, Latvia 1957), water-based oil on wood, 2017, courtesy Cave |
| Links | Reviews of current exhibitions near this one |
| Share | Facebook, Twitter, Google+ |