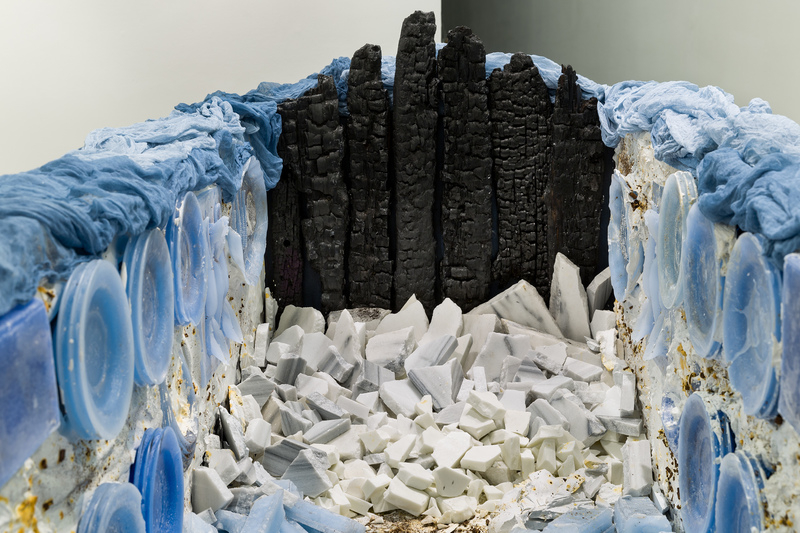 14 Feb 2018
Julie Schenkelberg: Reliquary
Asya Geisberg Gallery
Reviewed by Jan Castro
The centerpiece of Julie Schenkelberg's fourth solo exhibition is Reliquary (2018), a sarcophagus filled with broken marble, rust, and objects cast in blue wax from the artist's family's dinner settings and Madonnas. The Detroit-based Schenkelberg scavenged charred wood from homes destroyed by arson, and this serves as a sort of altarpiece on one side of Reliquary.
The other 22 works suggest the hard times that Detroit, and the rest of America, are experiencing: painted-over windows and sets of vintage family cutlery cast in Hydrocal. These relics seem to show the memories of middle-class life of those struggling to survive.
The smaller pieces are too obvious but the sarcophagus juxtaposing blue dining sets and Madonnas creates an odd conversation about what feeds us. Another oddity is the press release, which states that the cast of the Virgin Mary is "altered into the artist's shape." This and some of its other claims are not evident in the art.
| | |
| --- | --- |
| Exhibition | Julie Schenkelberg: Reliquary link |
| Start date | 11 Jan 2018 |
| End date | 17 Feb 2018 |
| Presenter | Asya Geisberg Gallery link |
| Venue | 537b West 23rd Street, New York City, NY, USA map |
| Image | Julie Schenkleberg, Reliquary, 2018, burnt wood, marble, Hydrocal cast cutlery and dishware, wax cast Madonnas and dishware, gauze with indigo dye, factory found rusted metal, 36 x 51 x 91 inches, courtesy of Asya Geisberg Gallery |
| Links | Reviews of current exhibitions near this one |
| Share | Facebook, Twitter, Google+ |