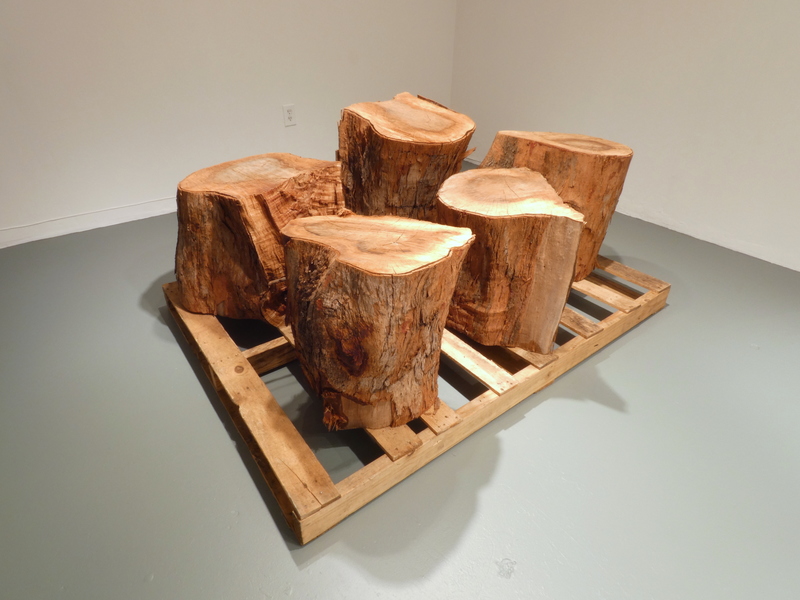 16 Feb 2018
Tom Scicluna: FREE
Under the Bridge
Reviewed by Elisa Turner
Responding to a bizarro world of alternative facts, fake news, and millions of phony Facebook accounts, Tom Scicluna turns the Internet inside out. He dares to stem, for some contemplative moments, the flood of screen-based images drowning daily life online. He does that by gathering clunky things you can touch. This brilliant, wickedly simple concept revels in paradox, contrasting public and private space.
"FREE" includes objects offered for free on Craigslist, which Scicluna acquired and presented so as to mimic their no-nonsense appearance as online images. They are gritty updates of Duchampian found objects. Titles reflect bland descriptions found online. Most works surprise with their formal strengths, though a boxed refrigerator door does not.
A mound of fill, Free scrap cbs block fill and drywall (kendall) (2018), gently recalls Félix González-Torres's bittersweet piles of candy. Cut Tree Wood Sections (Doral) (2018) exposes humble materials' primal grace.
| | |
| --- | --- |
| Exhibition | Tom Scicluna: FREE |
| Start date | 28 Jan 2018 |
| End date | 18 Mar 2018 |
| Presenter | Under the Bridge link |
| Venue | 12425 NE 13 Avenue, #4, North Miami, FL, USA map |
| Image | Tom Scicluna, Cut Tree Wood Sections (Doral), 2018, found objects, courtesy of the artist |
| Links | Reviews of current exhibitions near this one |
| Share | Facebook, Twitter, Google+ |