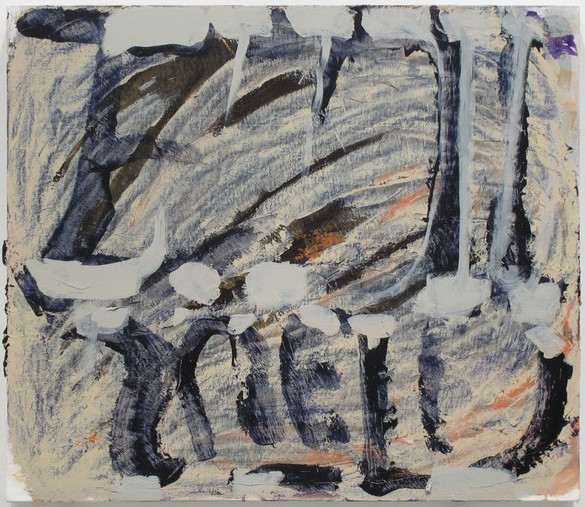 19 Feb 2018
Dana Frankfort: there was a stone
Inman Gallery
Reviewed by John Hovig
Dana Frankfort's paintings at Inman Gallery are demandingly elegant. They command the viewer's gaze via prominent gestures, uncommon palettes, and high contrast, but they mitigate their power with sensitivity and self-abnegation. Inman has displayed these paintings in two adjoining rooms, one containing larger, more imposing works, the other with smaller, quieter ones, all equally effective.
They are palimpsests in more ways than one. They feature text applied with messy majesty over a unicolored background, then overpainted or sanded down. Some are clearly legible, as in two paintings loudly proclaiming "KISS." Others such as Edna Mayer (2017) are hauntingly obscure.
The sides of each canvas are as interesting as the face, betraying the hues Frankfort eliminated along the way. Are those colors still there, buried underneath, or were they scrubbed away? The works become aesthetic records of their own construction, souvenirs of Frankfort's actions.