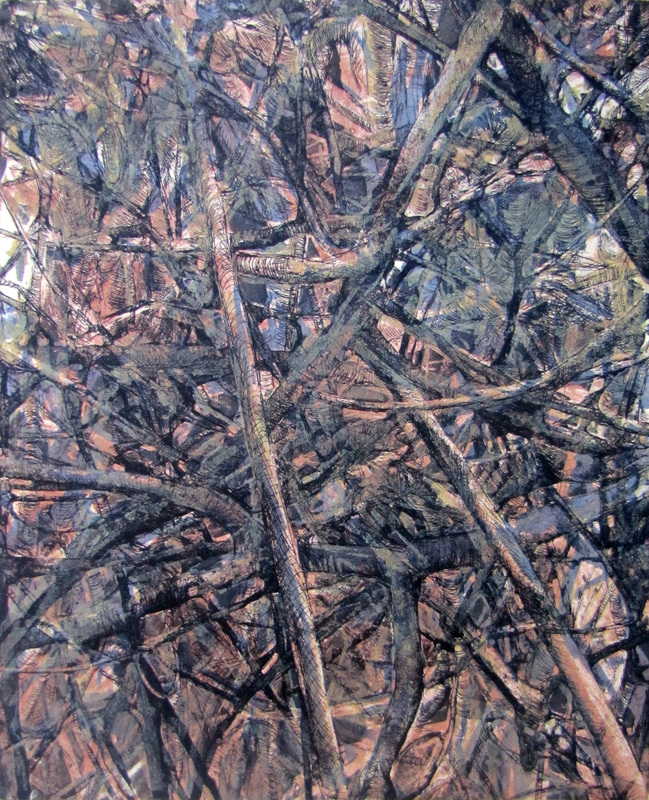 20 Apr 2017
Ink Shop Member Show
Ink Shop
Reviewed by Arthur Whitman
The Ink Shop is an Ithacan treasure: a collaborative print studio with strong exhibits. Their current members' show is lively.
Anna Pausch is a local with a recent BFA from MassArt in Boston. She's showing two intaglio prints. Mangroves tangles branches in expressive lines and cryptic shadows. Through the Thick of Things adds camouflage-like spots of color to the same image.
Craig Mains's print installation Snake Alligator travels from the New Roots School's quaint elevator gallery. Witty as usual, irregular sheets hang from above, bedecked in swamp iconography. Monotypes mix silhouettes, austere color, and evocative texture.
Large, unframed pieces stand out. Pamela Drix's Rauschenberg-like Long House Scroll I and II place Native Americana against contemporary ruin. Judy Barringer's somber Catacombs of Memory explores sequence and variation. Best of all is Christa Wolf's handmade paper work Six Panels Two Figures, with its loud abstract color and foreign materials.
| | |
| --- | --- |
| Exhibition | Ink Shop Member Show link |
| Start date | 07 Apr 2017 |
| End date | 28 Apr 2017 |
| Presenter | Ink Shop link |
| Venue | 330 E. State Street, Ithaca, NY, USA map |
| Image | Anna Pausch, Through the Thick of Things, 2015, 7.25 x 9.25 inches, intaglio, courtesy of the artist and Ink Shop |
| Links | Reviews of current exhibitions near this one |
| Share | Facebook, Twitter, Google+ |