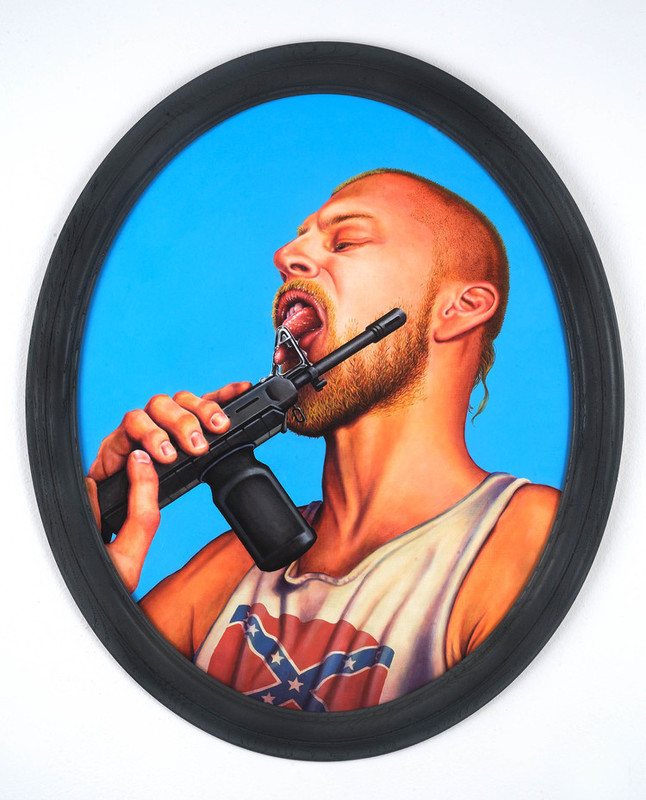 22 Feb 2018
Kate Kretz: Common Denominator
York College Galleries
Reviewed by Stephanie Lee Jackson
Kate Kretz walks around with no skin on. Every lick of mayhem in the collective psyche passes through her synapses, whether she is drawing the egregious sneers of Trump, painting rapists' body hair, or eulogizing beloved lamb chops. The exhibition assaults viewers with a meticulous polemic against violent hierarchy, exorcising all of testosterone's demons at once.
Kretz doesn't flinch from offending nearly everyone. Online harassers have threatened her for "Gunlickers," lurid paintings of men orally engaging with rifles. The penis count in the show is high. A masturbating figure reminiscent of Harvey Weinstein looms over the room, as Baghdad explodes in the background. Rather than cataloging victims, she provides a victim's point of view, literally.
The most poignant work invokes cognitive dissonance with thread. What appears to be a bloodstain on a flag is embroidered into the stars. Pink glass beads sewn onto a stuffed elephant become a child's first lesson in violence.
Exhibition
Kate Kretz: Common Denominator
Start date
24 Jan 2018
End date
24 Mar 2018
Presenter
York College Galleries link
Venue
441 Country Club Road, York, PA, USA map
Image
Kate Kretz, Gunlicker I, 2015, oil and acrylic on Gatorboard, 20 x 16 inches, courtesy of the artist
Links

Reviews of current exhibitions near this one

Reviews by Stephanie Lee Jackson

Share
Facebook, Twitter, Google+