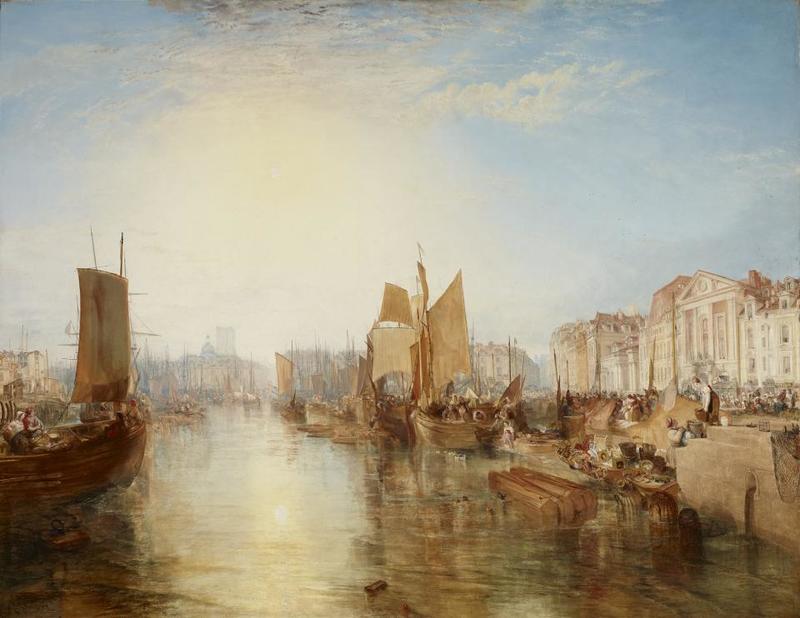 24 Apr 2017
Turner's Modern and Ancient Ports: Passages through Time
Frick Collection
Reviewed by Michael Stiefel
This exhibition features 35 works in oil, watercolor, and graphite that illustrate contemporary and ancient cities. Six large port paintings are the highlight. Three are modern: Dieppe, Cologne, and Brest. Three are historical: Regulus, Ovid Banished from Rome, and Agrippina Landing with the Ashes of Germanicus.
These larger works exemplify Turner's skill in deploying light in his paintings. They show human activity in fine detail, as well as its comparative insignificance within the grandeur of the ports.
The Dieppe painting depicts the morning sun as a diffuse ball in the sky, reflected in the water below. Traders unloading their property on the lower right, people on the boats, and figures walking along the port are dwarfed by the immensity of the scene.
This diminution of humanity turns tragic in the history paintings. Regulus, Ovid, and Agrippina are lost in the light and vastness of the ports and their luminous surroundings.
| | |
| --- | --- |
| Exhibition | Turner's Modern and Ancient Ports: Passages through Time link |
| Start date | 23 Feb 2017 |
| End date | 14 May 2017 |
| Presenter | Frick Collection link |
| Venue | 1 East 70th Street, New York City, NY, USA (between Fifth and Madison Avenues) map |
| Image | Joseph Mallord William Turner, The Harbor of Dieppe: Changement de Domicile​, exhibited 1825 but subsequently dated 1826, oil on canvas, 68 3/8 x 88 3/4 inches, Henry Clay Frick Bequest, © The Frick Collection, courtesy of the Frick Collection |
| Links | Reviews of current exhibitions near this one |
| Share | Facebook, Twitter, Google+ |