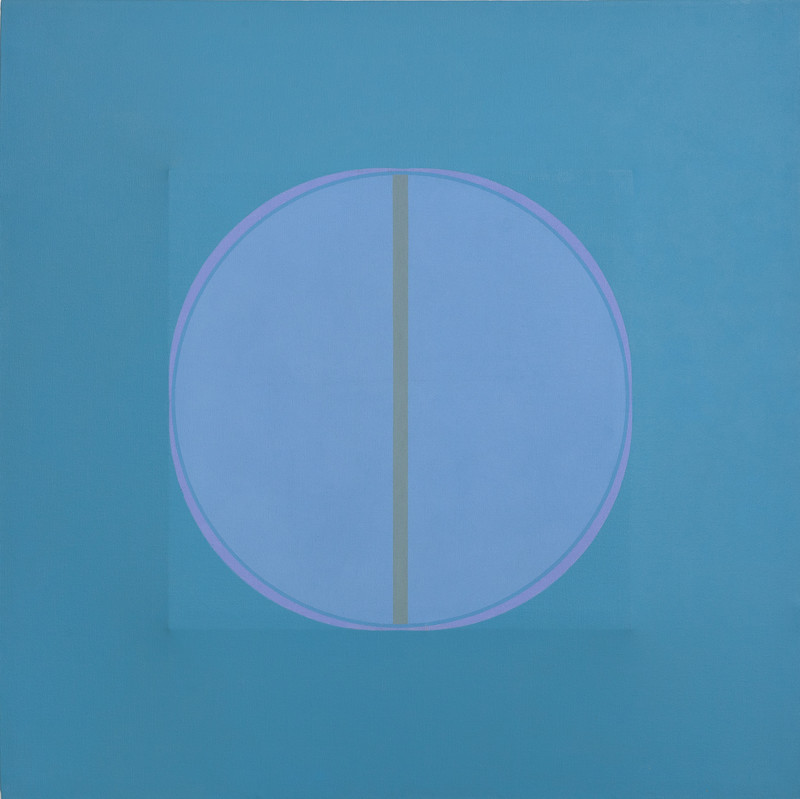 08 Mar 2018
Tom Schmitt
Bridge Red Studios
Reviewed by Elisa Turner
Schmitt's radiant geometric abstract paintings and serigraphs display the hallowed virtues of "a clean, well-lighted place," famous from Hemingway's story of that title. Most are supremely flat, pure tributes to color and form.
The artist's pared-away progression of circles and other shapes in these twenty works grace the project space of Bridge Red Studios with a chapel-like aura. Red, yellow, blue, and green glow from within, captured in precisely balanced compositions, elevating geometry to a spiritual realm with serene clarity.
Schmitt's P-142 of 1966 echoes Kenneth Noland's somewhat earlier Concentric Circle series, but it pioneers variations on this structure with vibrant squares inside circles. Colors are kissed by the subtropics, produced in Miami when it was a pre-Basel backwater. The sweet blue symmetry of 198 is like seductive drumbeats. Its lavender circle, outlined in pink and sliced in two by an ocher stripe, floats in perfect harmony.
| | |
| --- | --- |
| Exhibition | Tom Schmitt |
| Start date | 28 Jan 2018 |
| End date | 18 Mar 2018 |
| Presenter | Bridge Red Studios link |
| Venue | 12425 NE 13th Avenue, Miami, FL, USA map |
| Image | Tom Schmitt, 198, 1967, acrylic on shaped canvas, 32 x 32 inches, photo by Francesco Casale |
| Links | Reviews of current exhibitions near this one |
| Share | Facebook, Twitter, Google+ |